Are you an Amazon Vendor? Here is guide to drive sales!
Are you a vendor on Amazon looking to boost sales performance and can't find any tips?
Keep on reading as this is guide for all you amazon vendors..
The big question is how can I drive more sales on Amazon Vendor platform?
In this blog we have put up a list which is out of years of experience on Amazon and is tried and tested which will help you drive results as a vendor on Amazon.
But before that, let's understand where amazon vendors stand in the Amazon marketplace scenario.
Amazon vendors are in a good position to get huge results in stats if they implement small number of changes.
So, here are our top three strategies on how to boost your sales as an Amazon Vendor and using the tools available to you within Amazon Vendor Central.
Amazon product pages optimisation
It's important to get the basics right first. Amazon Vendor Central is based on producing great looking ASIN pages for consumers, keeping in mind to make them SEO friendly.
We have below explained 5 aspects of the same:
Amazon vendor product page titles:
There are four things to remember when it comes to thinking up the perfect Amazon title; structure, syntax, length and characters.
The ideal Amazon title adheres to Amazon's syntax, while coming across structured.
You also want to make sure that your title is 100-150 characters long and includes all the relevant keywords.

Amazon vendor product features:
We definitely recommend investing time in writing great feature bullets for each product.
However, think of these feature bullets as easy-to-read, small paragraphs that flow naturally, rather than short bullet points. These feature bullets provide a great opportunity to include the relevant keywords for your product. This is something that should definitely be capitalised on.
Finding these keywords can be easily done through tools such as keywordtool.io. Keywordtool.io is a fantastic tool that allows you to type in a search term, and in return the tool will provide you with all the necessary key terms.
Relevant Amazon product attributes
What often occurs on Amazon Vendor Central is the absence of additional product info.
While the title and the SKU may be present, additional product info is often missing.
This includes product types, category specific attributes, audience targeting, occasions and not to mention a huge range of other attributes.
Ensure that all the relevant product attributes and parameters on Vendor Central have been completed.
Search terms for Amazon product SEO
Search terms are critical in ensuring you get ranked within the relevant categories.
Don't forget about these search terms that underpin each product listing.
List as many relevant search terms as possible, separated by a comma.
In September 2019, Amazon made a change to the Search Terms (generic keywords) attribute.
Amazon will accept a maximum of 1 occurrence of this attribute and its length must be less than 250 bytes.
If you exceed this limit, none of the keywords in the entered as Search Terms will be indexed.
Amazon Product images optimisation
As we move to more mobile, rapid consumer behaviour, customers are making shopping decisions increasingly based off of images.
Which is why product images are becoming increasingly essential to priorities.
Ensure you have multiple, high resolution images of your product, taken on a clear white background. It is also important to pre-empt any questions consumers may have about your product, and attempt to answer this through your image, or the use of infographics for example.
Legitimise your brand on Amazon Vendor Central
As an Amazon Vendor, a key step in boosting your sales is to legitimise your brand. One process of doing this is to take part in Amazon's Brand Registry.
This allows you'r brand to be registered and recognised by Amazon as a legitimate brand. This is a straightforward process.
Having access to trademark documentation and the contact details of the law firm that helped to register the trademark is all you need.
This process is instrumental in that it opens up a great deal of marketing opportunities for registered brands.
The largest of these is the Amazon A+ pages.
The Amazon A+ content allows you to talk about your brand and brand story in a much more compelling and graphical way. It provides space to provide unboxing instructions, product comparisons, product claims and other similar information.
Second, is the opportunity to build an Amazon Brand Store. This allows you access to your own shop within the Amazon platform. Here you can talk about your brand and communicate your story all within one portal. This establishes yourself as a serious Amazon vendor. Not only does this lend credibility to your brand, but also presents the brand as a serious Amazon vendor. Both these marketing opportunities have a positive impact on product performance. However, at MerchantSpring, we know just how much of an incremental benefit Amazon A+ content can deliver. It can boost your Amazon search ranking and is definitely worth investing in.
Finally, you will also gain access to a range of Amazon Marketing Services. Through this you can run different marketing campaigns. This includes PPC campaigns to highlight your listing or product in front of your customers with a pay-per-click mechanism. PPC uses a paper click mechanism to highlight your product in front of customers. This refers more to features such as headline search adverts, product display adverts and a range of other variations. In Australia, this feature launched only recently.
Amazon Marketing Services are incredibly appealing. They present a compelling and low-cost investment. Especially as competition for keywords is yet to reach the levels seen in Europe and North America.
We encourage Amazon Vendors to find products with good conversion, poor search ranking and who stand to benefit the most by advertising on the Amazon platform.
Maintaining a good relationship with your account manager of Amazon Vendor Central
As an Amazon Vendor it pays to have a good relationship and dialogue with your Account Manager. This is because your Amazon Retail Team will be across all the "over and above" marketing opportunities.
For example, Black Friday and broader sales and marketing events. This ensures a close dialogue between yourself and the account manager, inevitable leading to more participation and sales for you as an Amazon Vendor.
While all these tips have been tried and tested, this is by no means a comprehensive list. Rather, we recommend that this is a great way to get started, particularly if you are seeing poor traction at the moment.
Christmas is around the corner use what you learn from here in real business scenario and see what works for you. If you have any questions just leave them below or drop at our Facebook Page.
About Harjot Singh
All Articles
See MerchantSpring in Action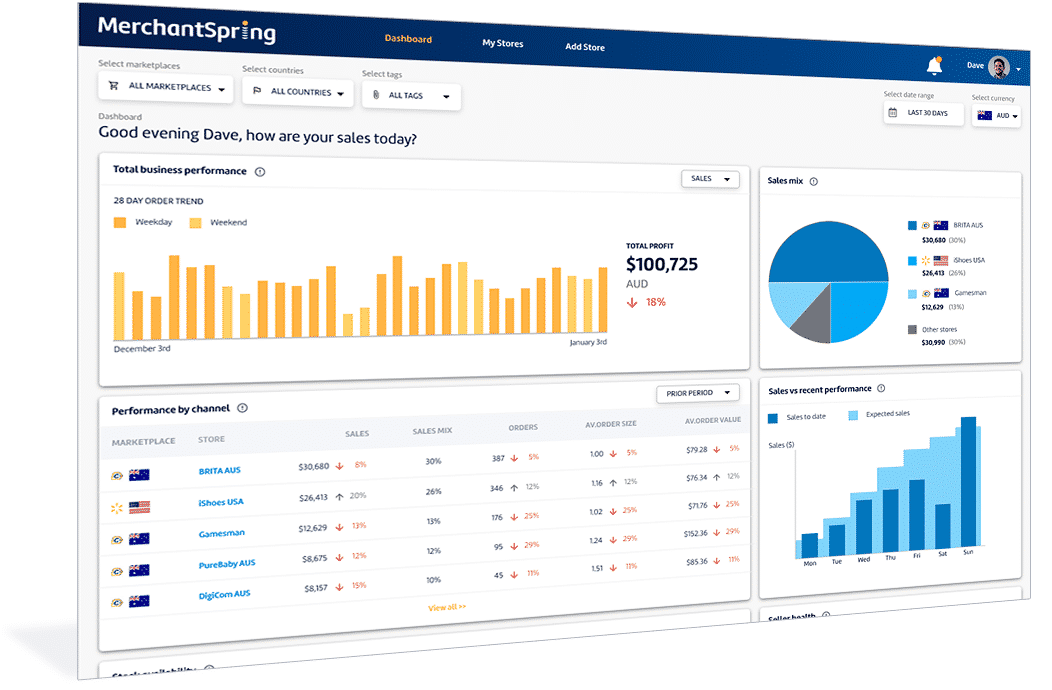 Book Demo