eBay Conversion Rate Optimisation: 5 tips to increase your sales
When eCommerce sellers want to increase sales, usually they think they need to generate more visitors. Although that certainly doesn't hurt, it's much wiser to start by investing time and effort towards improving the existing conversion rate. The same thing is true in eBay.
Imagine you're selling a product for $25 and your conversion rate is at 10%. That means that for every 1000 visits, you will earn $2500. Now imagine your conversion rate is 5% but you're generating more visits, like 1500. Your total sales will still only be $1875.
By now you'll have probably understood that a conversion rate is the percentage of visitors to your listing that convert into sales.
On eBay, the benefits of improving the conversion rate compound over time. Because eBay raises the ranking of listings with a high conversion rate, you'll be reaping the rewards over and over with this positive vicious cycle:
higher conversion rate › higher rank in organic results › more impressions › more sales › higher conversion rate
Let's look at some of the 5 best tips to increase your conversion rate and boost sales on eBay.
Optimise eBay listings
Keywords
eBay's search results are the main source of sales on eBay. So knowing which search terms/keywords customers are using to find products like yours is the first step to boost your conversion rate and increase sales.
If you're using inaccurate keywords or not being specific enough with your content, title or description, people won't click through. Even if they do click, they'll quickly realise that they've made a mistake and abandon your listing – damaging your conversion rate further.
Use the eBay search autocomplete feature to find out how eBay users are searching for your products. Outside of eBay, you can research keywords with Keywordtool.io or Google Ads Keyword tool. These are all free options.
Along with keywords, picking the right category is the first step to get your listings to appear only in relevant search results – the ones that will get you genuinely interested buyers.
Item specifics
There are 3 types of item specifics that you need to fill within your listings, two of which are optional. But if you think that means they're not important, think again. Item specifics are one of the most influential aspects of any eBay listing.
These detailed pieces of information not only provide a huge boost in the search rankings, they also appear as an easy-to-read breakdown above the description that helps shoppers better understand what they're purchasing.
You can edit item specifics with our free tool Marketplace Manager™. Perform a full diagnostic and see how your listings stack up in terms of item specifics.
Content
eBay's search algorithm, Cassini, emphasises listing titles more than other marketplaces. But this doesn't mean your titles should only be made for the algorithm to read; having them read and understood by humans is the ultimate goal. As with keywords, you want to optimise eBay titles with accurate information so as to avoid misleading people.
Use a tool like Title Builder to begin. Enter the name of your product and choose from a list of the most popular keywords for your product. It also provides a suggested title.
Although the description has lost some of its former glory, it is still an important factor. eBay recommends that your most important keywords make up 5% to 7% of the description (10 to 14 times in a 200-word description).
Improve listing design
What do e-buyers most need when purchasing something that they can't try, experience or touch? They need to trust your product and you. Images and videos are the most efficient ways to do this on eBay. Afterall, pictures speak a thousand words (and who has time to read 1000 words on eBay?).
Build a credible listing with professional images that display all angles, with the correct scale and a high resolution. The photos should answer nearly any question the shopper may have in their about the product. You can even hire a professional product photographer service like MerchantSpring to be sure you have best in class content.
Lastly, addressing common customer objections and questions can also be done graphically, either on your banner (if you have an eBay Store), in your gallery or description. For instance, are you frequently asked if you ship to a certain region? Highlight that information visually (imagine a badge-like graphic) and more conversions should follow naturally.
Run split tests
You've improved your listing to the best of your knowledge and ability. Now, let customers tell you what actually works for them. This can be done with A/B or split testing: running different variations of your listing for a certain period of time and seeing which one produces more sales.
Here are some ideas of variables that you can test within your listings:
First image
Listing title
Price point
Free vs Paid Shipping
Gallery images
Category
Item description
Listing Design
Listing Banners
Remember to run these tests for the same period of time or until they reach a certain number of sales. It's important to keep the listings comparable. You should also only change one variable at a time. Otherwise, you can't be sure of which factor contributed to the results.
Offer promotions
Implementing free shipping across your listings boosts impressions, click-through rates and sales. We know offering global free shipping (or even domestic) is expensive, so tweak your eBay shipping policy and offer shipping only whenever it's financially sustainable.
As a side note, you may want to avoid fusing the shipping cost into the product price as that may adversely impact conversions.
Other eBay promotions include discounts based on amount spent, buy one get one free, discounts by type of buyers, direct price reduction or multi buy discounts.
Use eBay Sponsored listings
By now, you should have vastly better listings, so it's time to really kick conversions into high gear with sponsored listings. As you'll be paying an advertising fee, make sure the listings that you're sponsoring deliver a good profitability.
When selecting listings to promote, you can also take advantage of eBay's "Recommended Items" feature in the campaign manager.
Conclusion
The most successful eBay sellers know that a listing has to be continually optimised to reach maximum performance. Optimisations are often based on common objections, as we've seen, but also customer feedback, competitors' reviews or new features and recommendations that eBay rolls out. Essentially, this means you should never stop testing and trying to improve eBay conversion sales rate.
Software tools are your allies in this process. The MerchantSpring Market Manager™ tool can monitor your listings and your sales performance across multiple marketplaces. If issues arise with your listings or account health, it automatically notifies you, leaving you with more time to grow your business.

About Oxygen
All Articles
See MerchantSpring in Action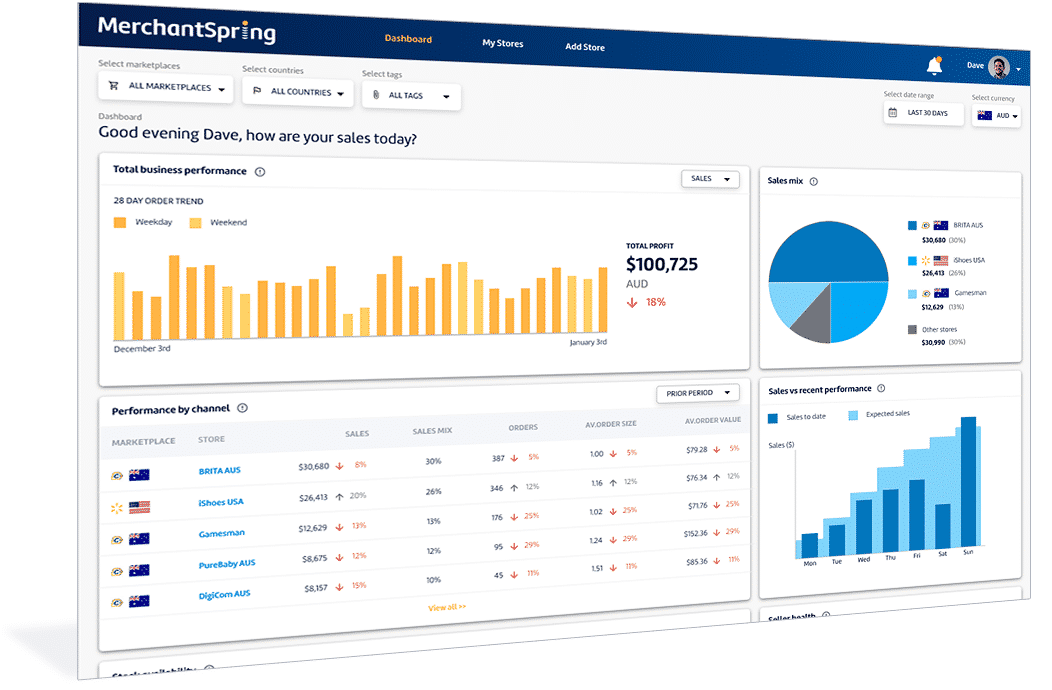 Book Demo