Best 10 E-commerce Marketplace Tools
Do you sell your goods on your own website as well as on Amazon, eBay, Walmart, or Shopify? Simple tasks like handling orders and keeping track of customer service tickets can become incredibly difficult when selling goods through various channels. The bigger you want to expand and the more channel you add, it becomes easier to miss incoming messages and overlook orders.
A multichannel inventory management framework is the solution. This is at the heart of your business, keeping track of all of your inventory, clients, and orders. It also links to your distribution networks, ensuring that your data is still up to date.
How do you know you're using the best resources and facilities for your specific business requirements? Wondering which tools to use for your e-commerce business?
To help you answer that question, we have rounded up the 10 best multi-channel e-commerce marketplace tools to help you stay on track with your businesses.
Sellbright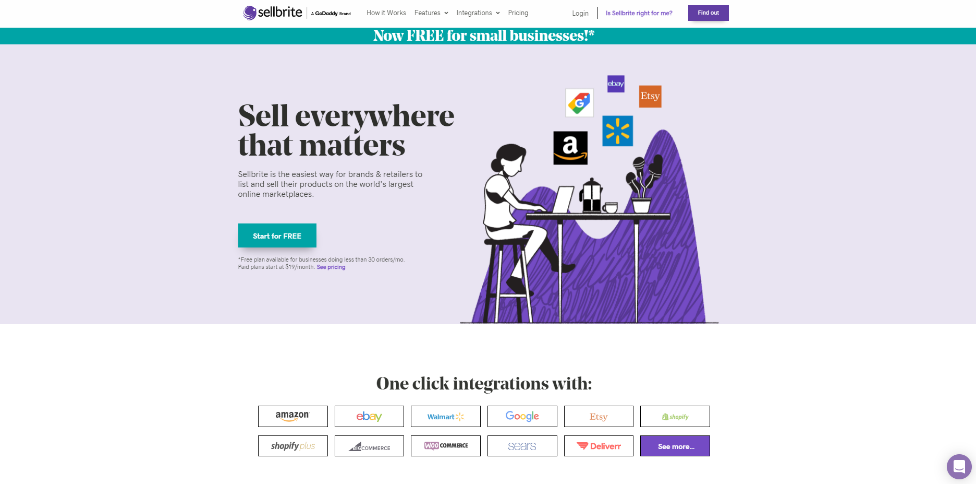 Sellbrite allows e-commerce brands and retailers to easily list and sell items through various online distribution outlets while maintaining centralised inventory and order fulfilment control. Sellbrite offers a powerful multi-channel solution for sellers with tools and automation to simplify listing, avoid overselling, and maximize fulfilment through a simple, intuitive interface.
Sellbrites' cloud-based channel management software integrates with many popular marketplaces and shopping carts including Amazon, eBay, Walmart, Etsy, Shopify.
Once you've set up Templates & Recipes, which enable you to automate listing products from your catalogue and bulk updating data across multiple marketplaces, listing from Sellbrite is relatively simple. Sellbrite offers powerful tools and automation to simplify listing, prevent overselling, and maximize fulfillment through a simple, intuitive interface by synchronising inventory across all networks automatically.
Sellbrite costs $49 a month for up to 100 orders per month while FBA Integration costs an extra $49 a month. A 14-day free trial is included with all Sellbrite models.
SellerActive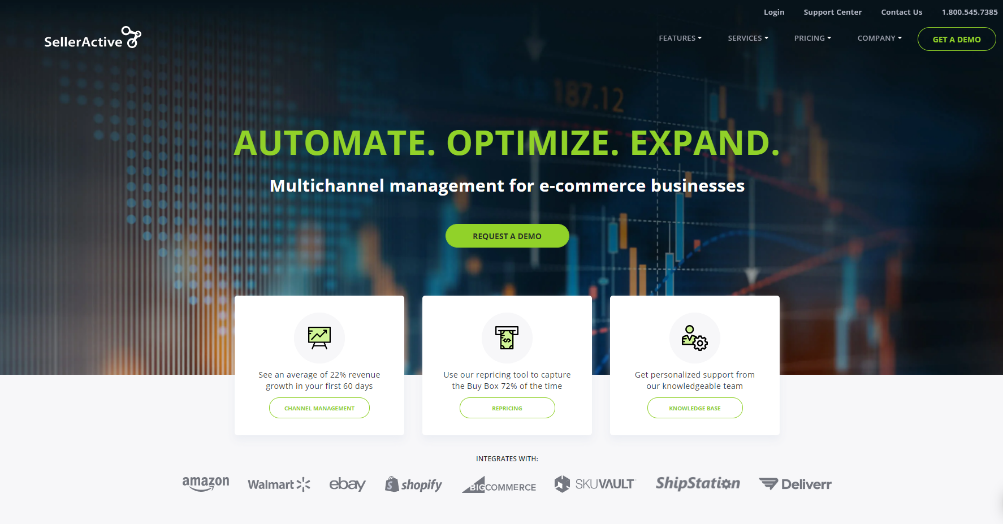 Although relatively new – established in 2011, SellerActive has positioned itself as a growing and respected platform. Unlike most of its competitors, SellerActive focuses on direct sales, with repricing tools, marketplace inventory synchronization, and order management built-in. The listing software integrates with major marketplaces such as Amazon, Walmart, Jet, and eBay to provide a single dashboard for listing formation, listing imports, and channel management.
Also, what sets SellerActive apart from other marketplace tools is its one-on-one assistance from customer-service "sale experts" who guide you through the app from the ground up. This makes SellerActive ideal for sellers who are just starting and need full-time support.
Starting at $299/month, the platform offers four monthly or yearly pricing options based on your annual GMV (gross merchandise volume) which is quite expensive and unfortunately, the platform itself doesn't have a free version or free trial.
Xsellco
Feedback is a crucial component of online retailing's efficiency, which is why any seller should have a review manager on staff.
For the simple reason that they know exactly what needs to be done to help sellers elevate their image in the e-commerce industry, xSellco makes the cut as one of the leading Amazon feedback management tools on the market. xSellco's key area of expertise offers three modules: a consolidated platform to respond to customer requests, manage feedback and execute repricing.
Whether it's Amazon, eBay, Walmart, or other marketplaces, xSellco's eDesk features allow customer inquiries from all distribution channels to be streamlined and integrated into a single forum on which you can operate. They appear together in a simple dashboard that you can learn to use in a few minutes.
In addition to customer service, xSellco assists with review and feedback collection by submitting automated feedback requests to the customers. These requests can be fine-tuned for importance and personalisation.
Bottom line is, xSellco assists sellers in proactively encouraging more positive feedback, resulting in improved seller metrics and social proof ratings, as well as faster sales growth and higher revenues.
Each module is standalone and has its pricing plans:
Edesk: Starts at $45/month
Repricer: Starts at $79/month
Feedback: Starts at $55/month
ChannelAdvisor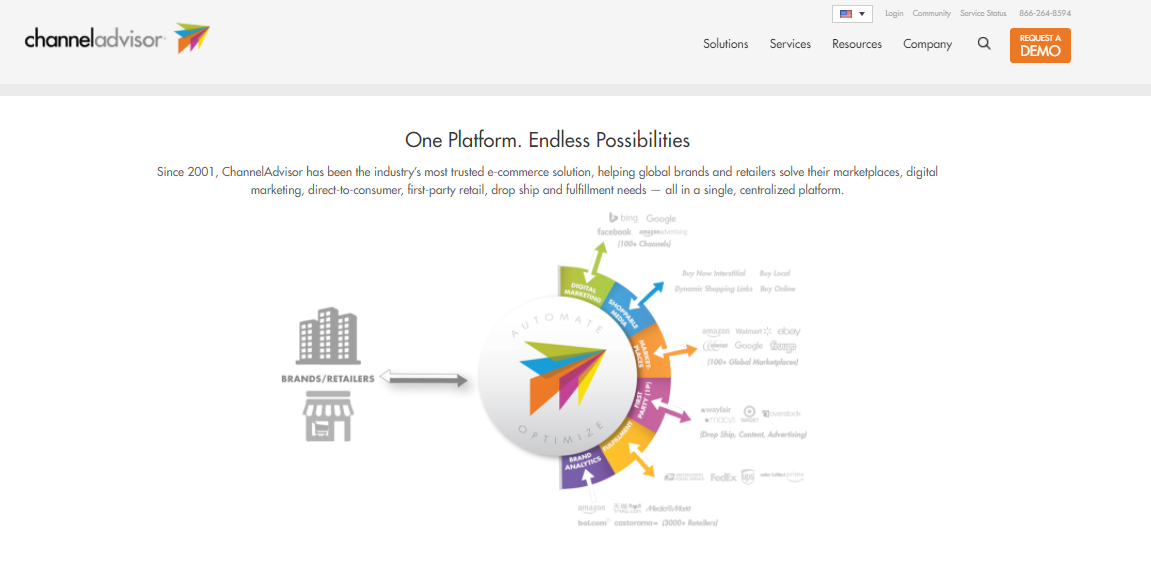 Suitable for medium to large businesses ChannelAdvisor is one of the largest multi-channel listing software options out there. It aims to create a truly seamless experience for consumers, from the first touch to the front door by offering a powerful set of enterprise-grade tools, as well as an experienced, full-service approach to e-commerce optimization and automation.
With ChannelAdvisor there is no limit to what sellers can accomplish. It's a one-stop-shop for managing inventory levels, product listings, search terms and SEO, and pricing rules and models. Simply put, this is a comprehensive solution that streamlines selling, marketing, and fulfillment.
With the aid of dashboards, a cross-channel dashboard, and an inventory velocity report, ChannelAdvisor facilitates decision-making. The system's "Pricewatch" feature monitors competitor price shifts and sends real-time warnings. It also changes the product prices according to user-defined rules.
Plus, the platform's Social Commerce function allows users to build social campaigns on sites including Facebook, Pinterest, Houzz, and Polyvore to share and promote goods in one place.
ChannelAdvisor however, does not reveal its pricing details to the public. You must contact the vendor for a custom price quote, word on the street is that pricing is on the high side though.
Zentail

Designed by retailers for retailers, Zentail has all the features to run and automate multi-channel e-commerce sales including supporting all major channels such as Amazon, eBay, or Google Shopping.
As one of the most sophisticated yet easiest-to-use automation tools available, Zentail utilises SMART tools to centrally manage product information, inventory, orders, and vendors in one platform. With advanced multichannel analytics, the app helps you to make better, quicker decisions.
They also provide catalogue and inventory management with multi-channel automated listing, integrated shipping label generation, FBA integration, dynamic repricing, and unique filters for product categorization such as Smart Types.
Although Zentail has a lot to give, it's better suited to medium-to-large e-commerce businesses looking to simplify rather than set up processes. However, with monthly rates starting at over $1,000, you'll have to pay more for extra features.
Ecomdash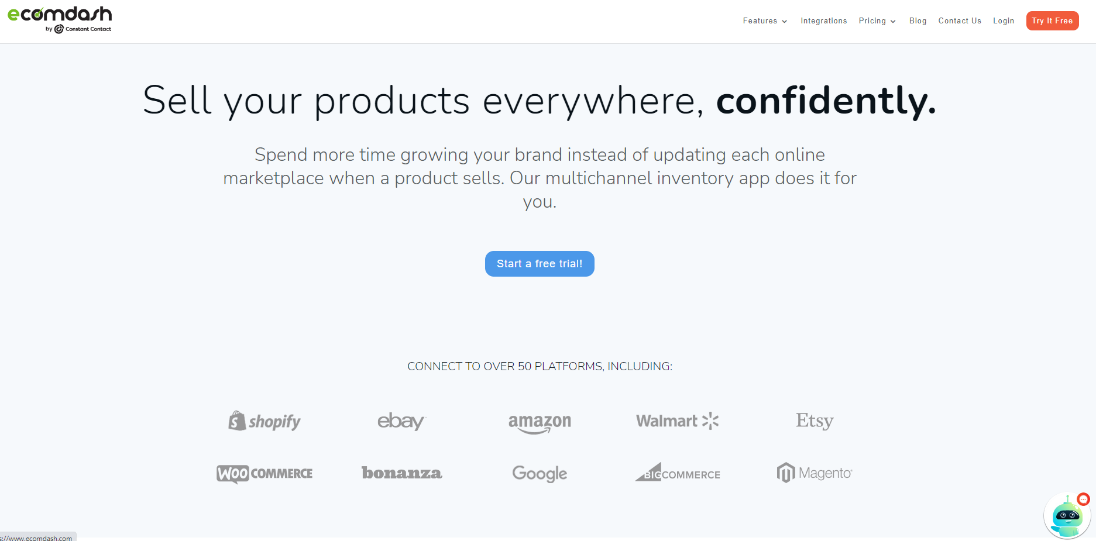 If you are a small or midsized online retailer who sells through multiple channels, Ecomdash might be the right tool for you. Ecomdash is an order fulfillment and inventory management software company that allows you to handle all of your online sales channels over 50 platforms from a single dashboard.
It has a number of features, such as inventory sync and order management, that can help you manage your store more efficiently. You can also automate dropshipping to remove the hassle of manually sending out sales orders with fulfillment information.
Ecomdash will coordinate sales and stock levels with reporting and auto-synchronizing. With Ecomdash, your product amounts will be updated 24/7, no matter how many online marketplaces or webstores you sell on – without a hitch!
Ecomdash isn't one of the most cost-effective solutions available. It does, however, excel at what it does, which justifies its high price. The pricing starts at $25.00 per feature, per month. There is a free version as well for limited features.
Store Automator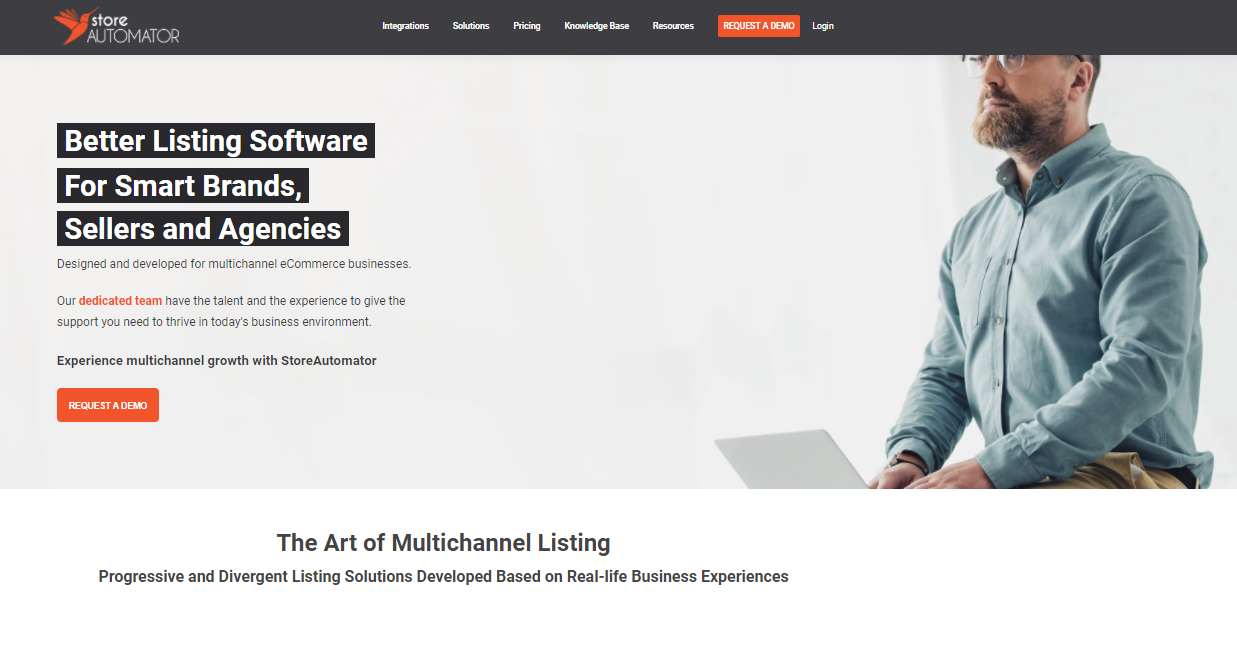 StoreAutomator is a multichannel listing and inventory management software designed for brands and sellers who want to get the best out of each marketplace they sell.
Catalogue management, channel management, data synchronization, inventory management, marketplace integration, and order management are all the features of StoreAutomator software that enable brands to make the most of each marketplace where they sell. This software works with a variety of selling platforms, including eBay, Shopify, and Etsy.
StoreAutomator has an impressive built-in app called Amazon Repricer that helps you to control listings across various platforms. The Amazon Repricer checks market conditions automatically and can either recommend or adjust your product pricing based on that information. You can fully automate the price comparison process and determine your own rules and parameters
Store Automator provides a 15-day free trial which gives you some time to experiment with the program before deciding whether it is the right tool for your business. Once you're hooked on this software, there will be three pricing plans on offer which are only available by contacting their admin.
CEDCommerce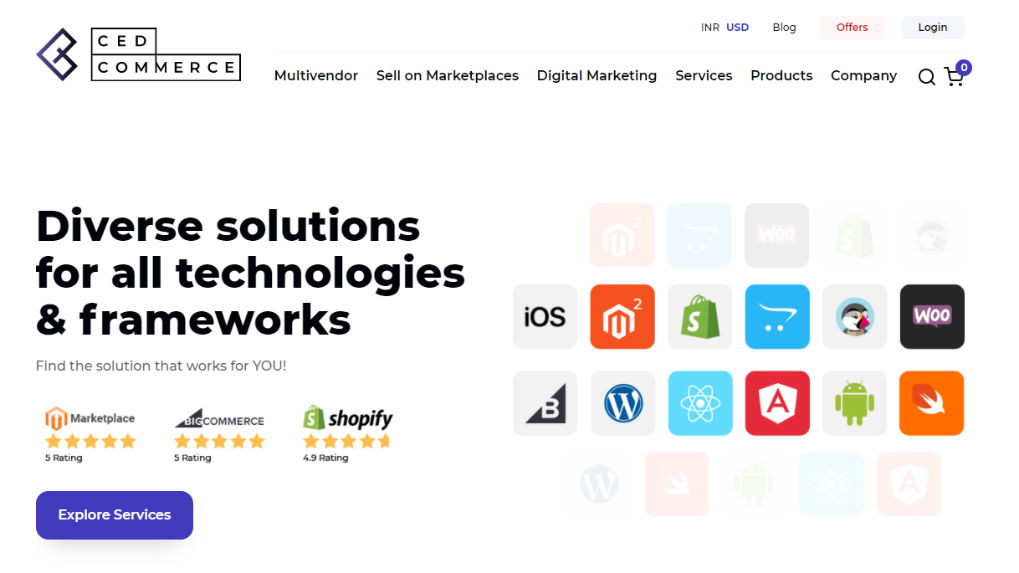 If you have difficulty learning how to master multi-channel software or are struggling to move your online store to other platforms or websites, CEDCommerce is here to make the transition easier. CedCommerce makes it possible for brick-and-mortar businesses to go online. They also represent a wide client base of sellers who have already made the transition to the internet, assisting them in gaining their first taste of success and growing their sales.
Their SaaS plugin-based multi-channel solutions assist sellers in moving product data across various marketplaces. Sellers have the option of moving data sets or bulk importing their listings. CEDCommerce also helps retailers avoid overselling by allowing them to accept orders automatically and synchronize inventory counts across multiple marketplaces.
CEDCommerce is a monthly subscription-based service that starts at USD 30 per month with more costly options providing premium benefits aimed at larger-scale e-commerce companies.
SellWare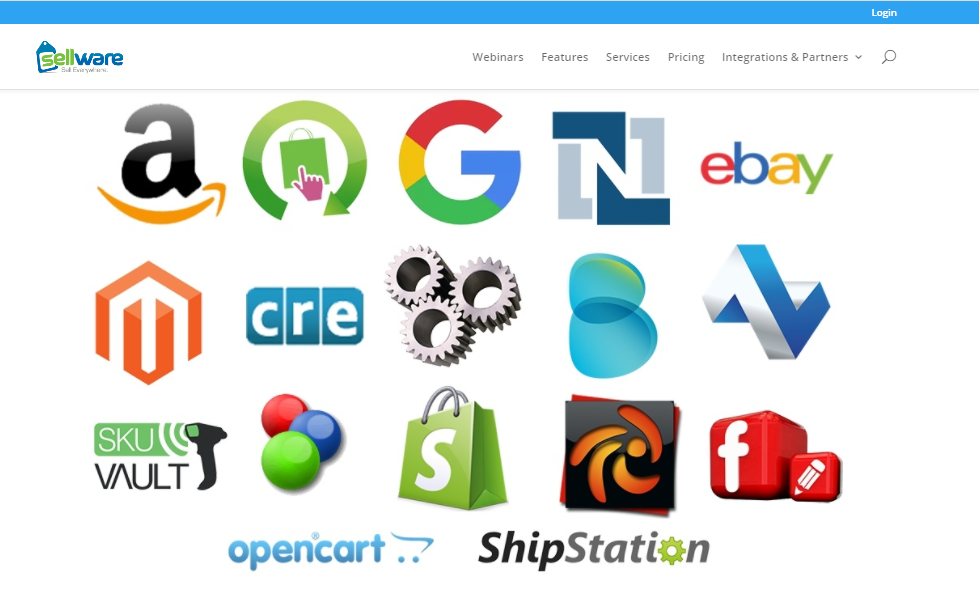 SellWare is an excellent option if most of your e-commerce revenue comes from Amazon sales, as it is highly specialized in handling Amazon listings. The platform helps you handle your multi-channel listings, inventory, and order fulfilment. They work with Amazon, eBay, Shopify, Magento, Zen Cart, OSCommerce, and ShipStation, among others.
Sellerware enables you to easily link your sales channels and begin automatically listing your products on common marketplaces based on rules you define. The platform keeps a close eye on your stock levels and updates your webstore and marketplaces in real-time. Sellware consolidates your orders and current stock levels by importing orders from all of your related networks. Key metrics such as sales, overall shipments, top sellers, slow movers, and much more can be viewed.
Sellware has a lot to give if you run a smaller e-commerce shop or already have a shipping and inventory management solution. Sellware isn't the cheapest option for small e-commerce vendors, but it is reasonably priced, starting at $99 a month for 250 orders and 1,000 items.
GeekSeller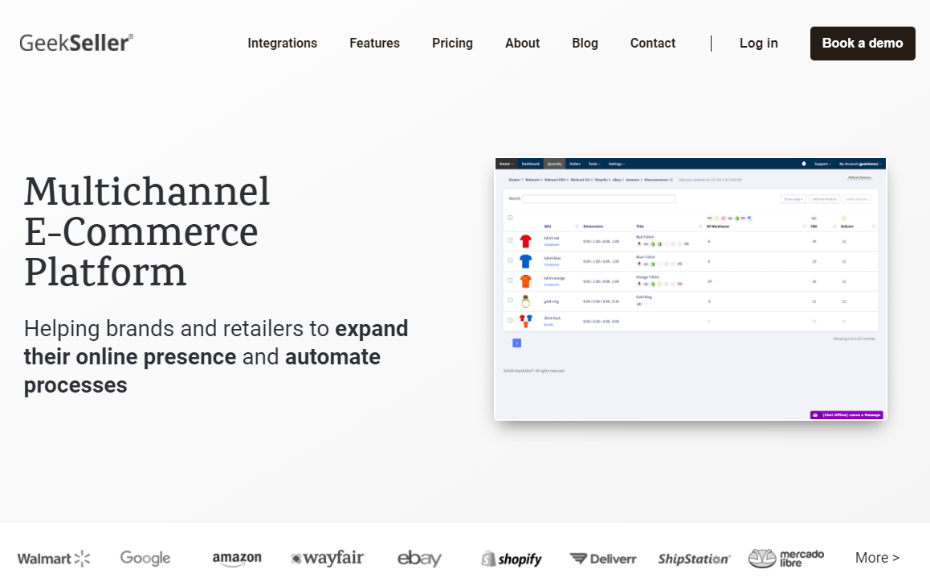 GeekSeller is a multichannel e-commerce platform that includes features such as automated listing, quantity, and order management, as well as repricing and analytics. The platform was originally designed as a Jet.com automation tool, but it has now branched out to offer inventory automation and management for Jet, Walmart, eBay, Amazon, Shopify, BigCommerce, and a range of shipping and 3PL solutions.
Multichannel inventory synchronization, real-time inventory alerts, order scheduling, repricing, and order fulfillment software are all available through GeekSeller. Furthermore, their features such as listing status provide sellers with a cross-channel summary of their goods, order management from a single screen, omnichannel price management, and a data-focused analytics dashboard.
One of the major pitfalls of GeekSeller is that it only provides simple cross-platform listing migration tools, so you'll have to update listings separately for each marketplace you sell on.
GeekSeller pricing starts at $200 per month and goes up to $1,000 (expensive!)
What's the best e-commerce tool to use
Finding ways to automate aspects of your e-commerce business will help you expand without losing income. One of the most effective ways to do this is to use e-commerce marketplace tools and software.
It's critical to find the right one for your business and sifting through the options takes time.
Whether you're professional marketplace sellers or agencies, make sure to check out MerchantSpring Marketplace Manager, which is a simple, easy to use multi-channel analytics dashboard which allows the user to connect an unlimited amount of marketplace channels enabling them to see all their sales and performance metrics in one place, powerful right? Start your free trial now!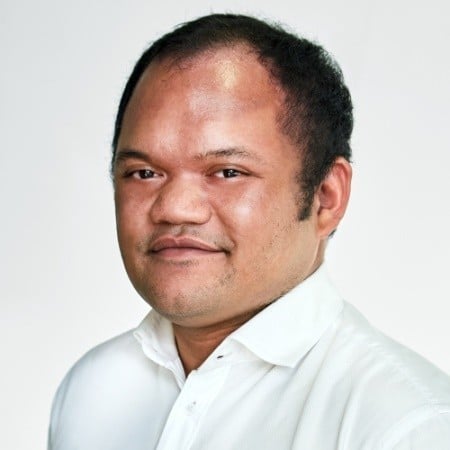 About James Dihardjo
All Articles
See MerchantSpring in Action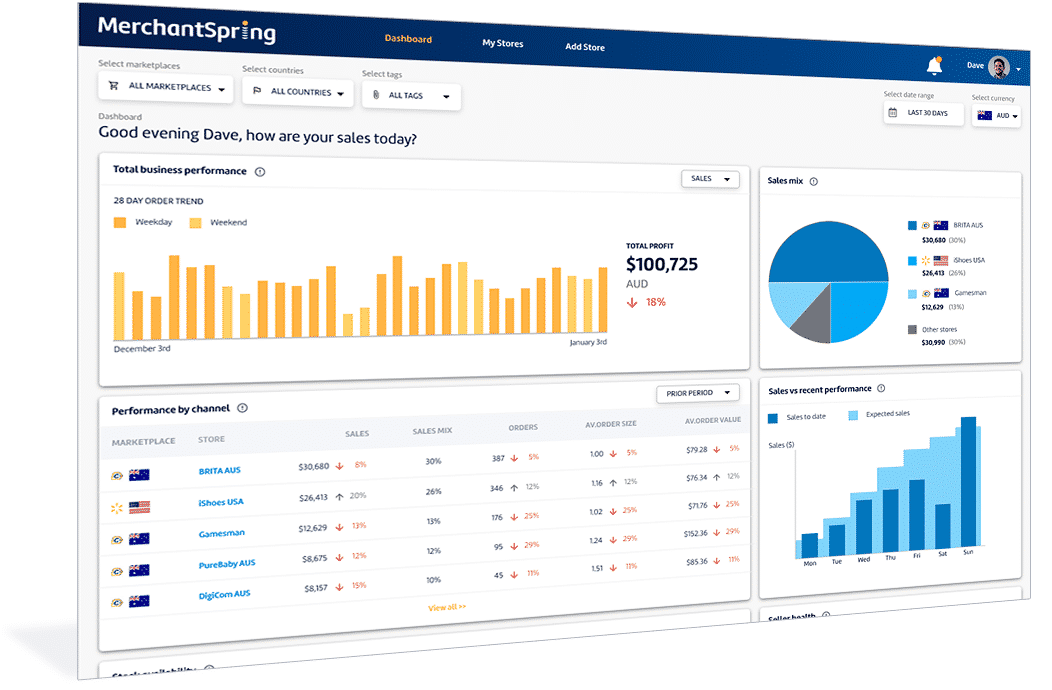 Book Demo