How to Avoid Product Delisting on Walmart Marketplace
Walmart takes pride in offering its customers the best shopping experience possible. As a result, Walmart Marketplace has established product listing guidelines and best practices that all sellers must adhere to. You can successfully publish products on Walmart Marketplace if you follow these rules and avoid the common mistakes that sellers make. A minor blunder on your part can result in the delisting of your Walmart products from the marketplace.
When a product is delisted, it implies Walmart has deleted it, and you will no longer be able to sell through it.
This can lead to a big problem. Not only was your previous listing a waste of time, but its removal and the time spent re-creating it means that:
Customers are unable to purchase this product from you, which has a negative impact on sales;
You'll have to sit on the bench for up to two days once you've been unpublished. Your competitors gain all the attention until you fix your listing;
You're wasting time that could be better spent expanding your eCommerce business.
Delisting or unpublished items may affect your business significantly, but surprisingly it's pretty common for Walmart sellers.
Here are the top reasons for Walmart delisting and the solutions.
Uncompetitive Pricing
Walmart assures customers that they will receive products at the lowest possible price, which no other marketplace can match. That's why pricing your products incorrectly is one of the worst mistakes you can make when listing them – and Walmart will remove your items for at least 24-48 hours (regardless of any price adjustment made).
If your product can be purchased from you at a lower price on a competing site (such as Amazon), your items will face delisting. Alternatively, if any customers on Walmart or competing marketplaces can find your items for a significantly lower price, your listing will be removed.
Solution: To stay on the safe side and keep your products published on Walmart, carefully read the Walmart pricing rules. Walmart strictly enforces two pricing policies:
Price Parity Rule: Automatically delists items if customers can save money by purchasing the same item- of the same seller- from a competitor's website (shipping included).
Price Leadership Rule: Automatically delist items if customers can save money by purchasing the same item on a competing website, regardless of the seller (shipping included).
The lesson here is to always keep your pricing competitive and be vigilant in pricing your product the same on all of your marketplaces and websites. Check to see if you can cut shipping costs by using an outsourced fulfillment provider who has access to preferential shipping rates and many geographical locations; and Use all-inclusive pricing to offer free shipping.
Incorrect Category Mapping
As simple as it sounds, category mapping on Walmart often becomes one of the main reasons why products are delisted.
Skipping or failing to complete the Category Mapping correctly can make product listing impossible. Category Mapping is a critical component of selling your products on Walmart.com. It tells Walmart which products in your store belong to which existing Walmart categories. As a result, until the categories are correctly mapped, that specific Product Type product will not be listed on Walmart.
In addition, if the mapping is incorrect, the product may be assigned to the incorrect category. This would result in the product not appearing in the search filters or being listed in the correct category – and customers won't be able to find it.
Solution: To avoid delisting due to incorrect categorization, make sure to double-check your listing and execute order testing as your final integration process. You should double-check that all product categories, sub-categories, and required attributes are correctly configured so that there are no errors or unpublishing issues.
Low Inventory and Out of Order Stock
One thing that everyone despises is going online, all excited to make an online purchase and then see the out-of-stock notice, which prevents you from purchasing it.
This appears to be acceptable in the short term; sometimes sellers oversell. But if this often happens, and for a long time, it leads to some consequences for your general performance. Constantly going out of stock or low inventory products upset the customers – and Walmart. Hence, your listings may get unpublished as a way of protecting the customer experience.
Solution: Until your inventory levels improve, Walmart will keep your listing unpublished. Find an inventory management solution that can give you continual updates and stock management—automation and integration of all your touchpoints to one centralized location to avoid delisting by Walmart.
Low Seller Rating
Your seller ratings are a direct reflection of how customers feel about your product or service, as well as how Walmart sees your account.
Negative Walmart Ratings can rise with each sale made with a flaw due to one or more defects on the part of Walmart Sellers. Customers may be disappointed by faults such as late delivery, lower-quality products or quality that differs from what the listing promises, packing issues, and so on. Walmart may unpublish your listing before contemplating suspension if your ratings are regularly low.
Solution: If you notice a drop in your ratings, look into what reviewers are saying as well as other aspects of your Seller Scorecard. Ensure that the Order Defect Rate remains at a historically low level and that faster and higher-quality product deliveries are made.
Furthermore, you should ensure that your listing is appealing to customers. You can accomplish this by winning the buy box, offering free shipping on Walmart, developing strategies to use promotional pricing, and so on.
Selling Prohibited Items
Finally, selling prohibited products on Walmart is one of the major reasons for unpublishing products on Walmart. To ensure the trust and safety of its customers, Walmart has labelled a long list of prohibited products. The marketplace restricts the sale of certain product types, such as tobacco, tickets, alcohol, and items that require special permission to begin selling them.
Solution:
The best way is to read Walmart's prohibited products policy. Ensure that you do not list any products that Walmart does not allow, or you risk having your items delisted. If you want to sell certain products that require approvals, the only way around this is to get Walmart's or the brand's consent. Contact Partner Support under the "Item and Inventory" category to request authorization.
Summary
Don't be alarmed if your Walmart listing has been unpublished or delisted. To sell smoothly on Walmart and ensure that your products stay on the shelves of one of the busiest marketplaces, strictly adhere to the guidelines set forth by the marketplace.
Offering your products at the best prices, maintaining performance standards, managing your inventory, mapping your products to the right category/sub-category and avoiding listing prohibited items will significantly make the process of selling on Walmart easier.
To make the process of selling on Walmart a lot easier, try out MerchantSpring's new Walmart Listing Quality Module. This new feature will quickly show which listings need the most work, so you can avoid having your items delisted from Walmart Marketplace.
About Chris Mott
All Articles
See MerchantSpring in Action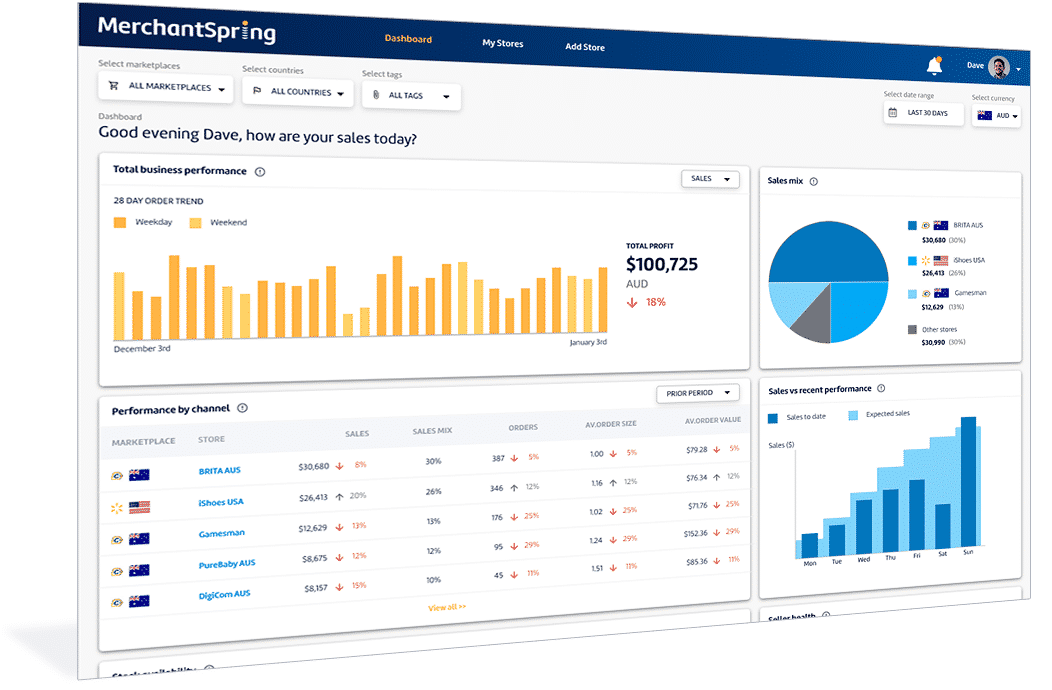 Book Demo