Listing of Marketplaces available in France by activity sectors [+240]
The unusual year of 2020 has accelerated the growth of e-commerce and significantly altered the shopping habits of many consumers. Successive lockdowns and social distancing rules have forced SMEs to digitalize by creating or optimizing their own e-commerce website. However, they quickly realised that this mainly allowed their customers to keep ordering but did not allow them to attract new customers or merely to the margin.
Why is it so difficult for SMEs to expand their customer base?
The reason is very simple: they do not have the financial means to appear on the first page of Google in front of the power of the big brands, the big distributors, and the Marketplaces.
For an SME, it is, therefore, necessary to look for the best ROI to find new customers and this is where it is most interesting to understand the Marketplace model. Indeed, the principle of a Marketplace is to federate on a single website a vertical or generalized offer through third-party sellers. The Marketplace makes it possible to increase the offer towards the consumer but also to mutualize the technical and financial means to be visible on the Internet.
It is a fast-growing model in which business has increased by an average of 44% over the first three months of 2021, a growth rate which, for the first time since the beginning of the crisis, exceeds that of the market (according to the FEVAD).
It is a model that allows an SME to have a better visibility thanks to the marketing advantage of the big players such as Amazon, Fnac, Cdiscount, Rakuten, ManoMano... or a lower but more carefully targeted visibility with specialised marketplaces such as Slowcosmétique, Pour de Bon, Drinks&Co, 1001PHARMACIES...
For an SME, this is the best way to make its brand known to a much wider panel than its website and thus acquire new customers with a positive ROI.
A model that matches consumers' expectations
In addition, this model meets the consumer's demand: to make one-click purchases in a secure manner with a multiple, very wide (Amazon has 150 million references) or very specific (beauty, wine & spirits, sports, etc.) offer, responding to his or her identity (short circuit, made in France, organic, recyclable, etc.).
To summarize, two main categories of Marketplaces can be distinguished:
The Generalists (Amazon, Cdiscount, Rakuten, Fnac.com, Darty...) which stand out because of the large number of buyers on their platforms due to a very wide choice of products.
The specialized ones, which focus on more specific and precise categories of products, around a specific activity sector (1001 pharmacies, BackMarket, ManoMano, Vinted, Vivino, Zalando, etc.).
Generally speaking, these Marketplaces do not have the same strengths or the same consumers. Even for generalist marketplaces, there are preferred sectors: The leader Amazon is being outperformed by Cdiscount on certain types of products, while the cultural sector is dominated by Fnac.com, a key player in this field.
The growth of Marketplaces
As a consultancy company managing in delegation Sales on Marketplaces for our SME clients, we have already listed more than 120 Marketplaces (excluding sales of services) in early 2020. Hence, we wanted to find out what was the situation one year later.
Today, we have identified more than 240 marketplaces dedicated solely to the sale of manufactured products (excluding the sale of services and leisure activities). Although this list is not exhaustive, it does show that the acceleration of this model is impressive, with the number of marketplaces having doubled in one year, which confirms that this model does indeed meet consumer expectations.
The most important issue in the digital strategy of an SME is to choose the right Marketplaces to invest in. To help you, we have classified these Marketplaces by activity sector and type of sale (B2B or B2C) and then indicated for each one general information such as the date of creation and membership of a group. In addition, to help you better understand your potential advantages and limitations when making your choice, we have classified the Marketplaces according to their means of access as a seller (open or selective), whether they have a regional identity, whether international sales are possible and whether the Marketplace is a mixed model or a pure Marketplace (a mixed model being a Marketplace that has its own brand or that does buying/selling as well as hosting third-party sellers).
Obviously, this list is far from being exhaustive, but it gives you an overview of the channels that can help you achieve your sales objectives.
And you will notice that this new classification presents about double the number of Marketplaces compared to the previous year!
Marketplace in a few statistics
Even if our report has no real statistical value, it gives a number of useful trends on this model and its interests.
To begin with, let us recall the key figures for Marketplaces in France in 2021 (FEVAD figures):
Fast access to more than 40 million buyers in France.
A 15% increase in online sales.
The increase in product sales on the internet is estimated at +30%.
Each seller's turnover increased by an average of 24% in Q1 2021 versus 2020.
499 million transactions were made online (+17.8%).
+44% of sales on marketplaces in Q1 2021 versus 2020.
In addition, here are some of the trends that our research provides on this market: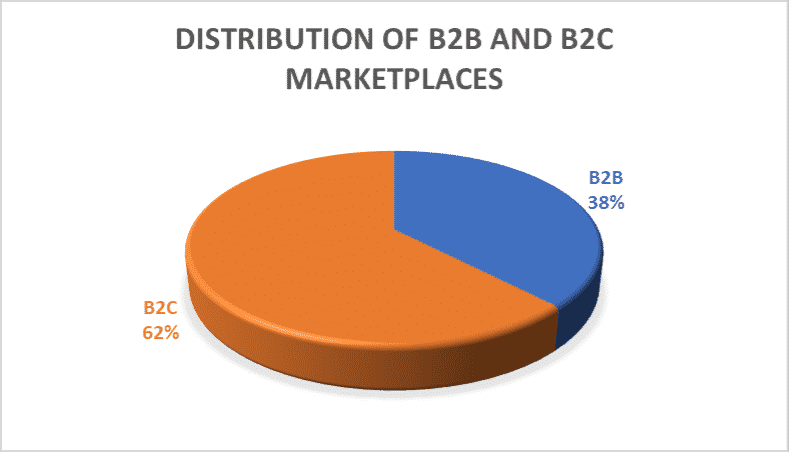 Out of the 241 Marketplaces identified, approximately two-thirds are B2C. Our survey also shows that 70.46% of the Marketplaces have adopted a pure Marketplace model, while less than 30% have followed a mixed model.
Finally, of the 241 Marketplaces listed, 71.37% of them support international sales.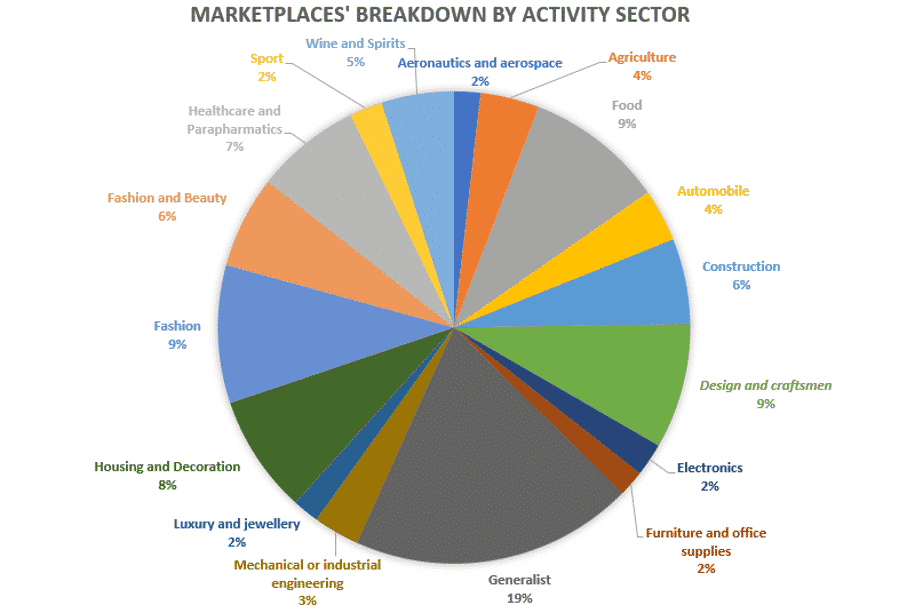 You can observe that, overall, all sectors of activity are covered by the Marketplaces in France. Logically, generalist Marketplaces dominate the distribution with 19%, followed by Marketplaces specializing in Fashion (9%), Food (9%), Designers and Handicrafts (9%), Housing and Decoration (8%), Health and Pharmaceuticals (7%), and Fashion and Beauty (6%).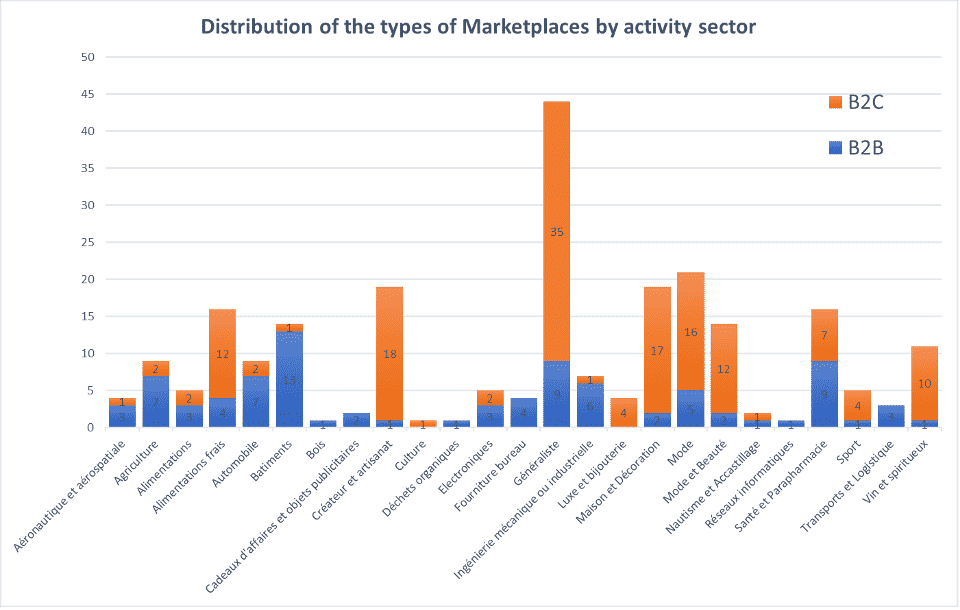 The distribution of the types of Marketplaces shows that the B2C model dominates in almost all sectors of activity (150 Marketplaces), followed by the B2B model (91 Marketplaces).
One exception is the construction sector, where there is only one B2C Marketplace for 13 B2B Marketplaces. However, this should be nuanced, as the B2C market is in fact taken up by generalists in the handicraft sector such as Leroy Merlin or Castorama.
In addition, B2B is favored in some activity sectors such as agriculture or the automobile industry.
This listing of more than 240 marketplaces will allow you to better visualize the landscape that is expanding through these channels and the current trends. However, in order to find the best sales vectors from such a wide choice, knowing which Marketplaces to select according to your activity sector and your business model requires you to define your digital strategy properly beforehand.
Which Marketplaces to choose for your SME?
Among the questions asked by our prospects when we define with them the strategies to be implemented to boost their turnover, the first one often relates to the optimal selection of Marketplaces.
We do not have a ready-made answer!
It is determined by the products, the activity sector, and, above all, by the sales and marketing strategy applied, in particular by the budgets allocated. Depending on your objectives, a few principles to follow can help you avoid getting lost in this virtual Marketplace jungle:
Getting into the top 5 Marketplaces requires a significant budget (between 5% and 15% of turnover) to make your products visible in the face of a large number of competitors.
A player specialized in your field of activity will allow a lower investment and access to a more attentive target for your types of products.
The more Marketplaces you open, the more visible you are, but beware of the overall cost, especially in terms of internal human and technological resources to handle all the tasks specific to each platform.
With almost 250 active Marketplaces in France today, the choice is wide, but pay close attention to the durability of your choices. Some marketplaces are closing as quickly as they were created, and this will become more pronounced as not all the new ones will find their customers after the health crisis.
It is not necessarily in your interest to publish your entire catalogue on all the marketplaces on which you sell. An "asynchronous" promotion may be an option to consider.
In addition to turnover, the profitability of each sales channel should be optimized. Personalized logistical choices that combine shipping from your logistician and shipping from the Marketplace (Fulfillment) often prove to be winning options.
In conclusion, you need to build your own Marketplace Mix, personalized to your products, your sector, your objectives, your communication, and logistics strategy...
We hope this list will help you in your choices, if not you can always call on our expertise to build or optimize your Marketplace strategy.
Here is an extract from the list of 241 Marketplaces, the complete list is on our website: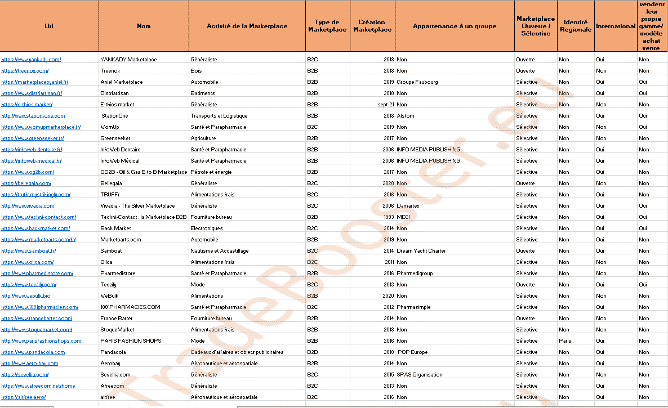 To download the full listing, please click on the following link: https://www.tradebooster.eu/listing-of-marketplaces-available-in-france-by-activity-sectors/
Thanks to our 10 years of experience in supporting SMEs, we understand that each case is unique and that there is no ready-made recipe for establishing a Marketplace strategy.
Using our services means saving time, taking advantage of the best practices on the market, avoiding mistakes, having access to our knowledge (SEO and SEA) of the functioning of the algorithms and back-office specific to each platform, whatever your sector of activity.
If you would like to know more, click here to get to know us and to have a personalized approach to take advantage of this opportunity to boost your sales.
Guest Author

Idan Lavin
Acheteur junior | Tradebooster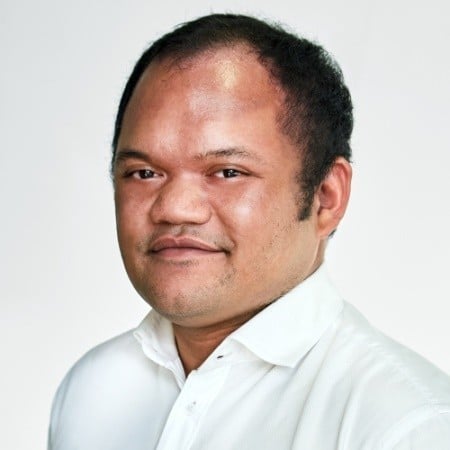 About James Dihardjo
All Articles
See MerchantSpring in Action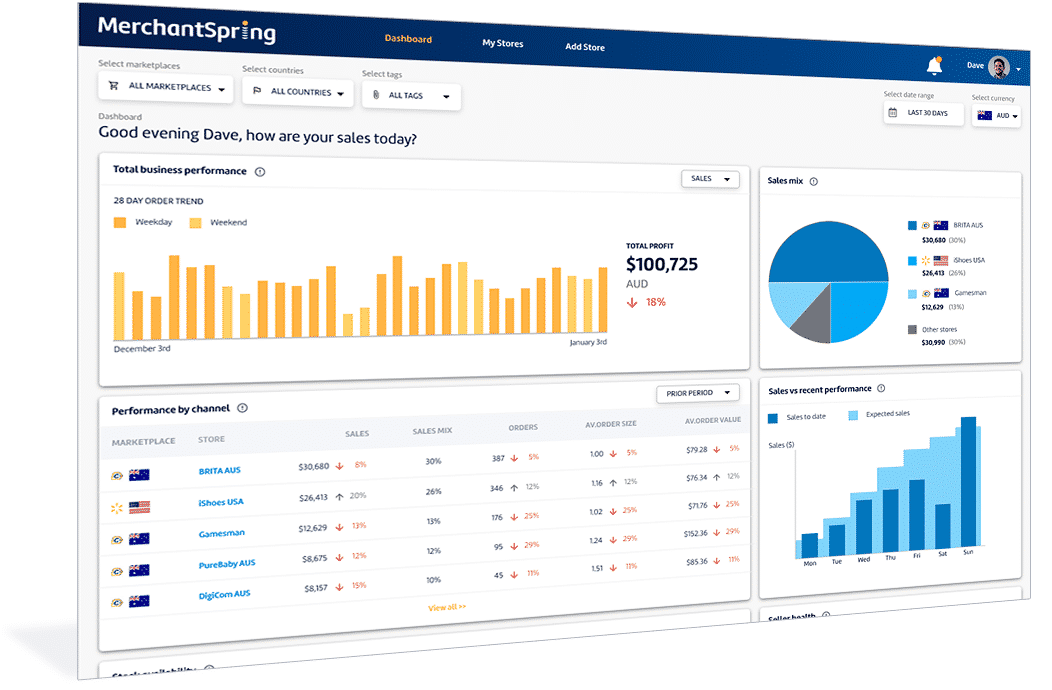 Book Demo