Getting the most out of Amazon FBA
If you are an Amazon seller, it is worth checking out Amazon FBA (Fulfilment by Amazon). It is a neat feature offered by the eCommerce giant which allows them to handle the majority of your logistics, like picking and packing, while you sit back and focus on attracting buyers to your store!

Amazon is known for creating one of the most advanced fulfilment networks in the world, benefiting many businesses around the globe. With FBA, sellers store their products in Amazon's fulfilment warehouses and Amazon picks, pack and provide customer service for the products when they are ordered. Sounds incredible… keep reading to find out more.
What is Fulfilment by Amazon?
In simple terms, you sell on Amazon and Amazon ships it for you.

Once you've qualified for FBA
You send your products to your closest Amazon warehouse (no minimum for the number of products you send)
They store them in their massive warehouses
When customers order your products, Amazon's staff will pick, pack, ship and track the order for you
Amazon will also handle any returns and refunds that may arise
You no longer have to stock up on packaging supplies because Amazon will look after it all for you! All good things do come at a price. To enjoy FBA, sellers are expected to pay anywhere in between 10-15% of the total retail price of each item towards FBA fees which include storage and fulfilment fees. Many Australian sellers enjoy their own fulfilment operations which they have heavily invested in, so FBA is an incremental cost.

Your customers also have access to Amazon's customer service, with the service network stretching around the globe, there to manage customer inquiries, refunds and returns for your FBA orders.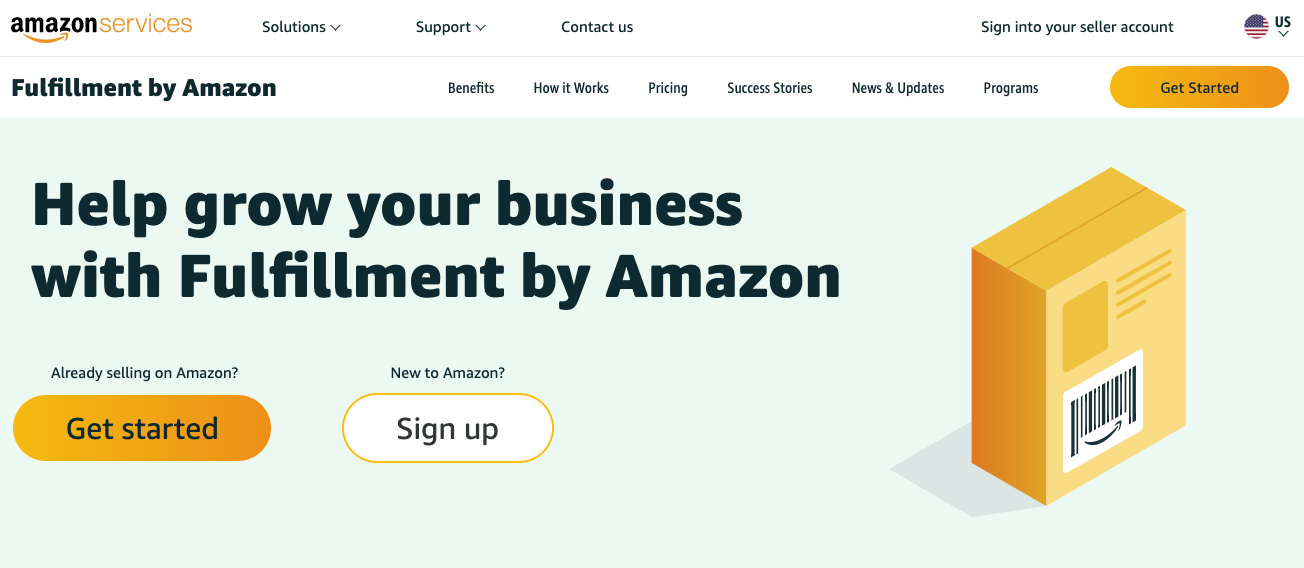 What are the benefits and disadvantages as a seller
There are plenty of benefits of using Amazon FBA, while there are also some drawbacks that you should also consider before taking up this great service.
Benefits
Frees up your time: Everything logistics-related is taken care of by Amazon while you can focus on strengthening your business.
Never run out of storage space: You don't have to worry about finding your own warehouse, personnel, security or stepping over boxes of inventory in your office. It'll all be stored in a state-of-an-art warehouse!
You have automatically qualified for Amazon Prime: Even more benefits for you and your customers!
Excellent customer service: 24/7 world-renowned customer service means your customers will come back if they are happy.
Shipping discounts your customers will love: Because Amazon has various contracts with major shipping couriers, they can get generous discounts.
Return management: Amazon will take care of all the customers who want to return goods, from talking to the buyer and coming up with a resolution such as sending a new product or a refund.
Disadvantages
Costs to use the service: The best things in life aren't free and FBA could eat into your profit margin if you are a small scale retailer. If you have products that sit and not sell for months, that adds to the storage costs.
Lack of control: Amazon will be packing and shipping your products however they like it, so you cannot recommend cheaper materials or suggest ways to pack a certain item.
Labelling: It is mandatory for sellers to label every product that Amazon will fulfil with a unique product identifier that has its own barcode - this costs money and time, as you'll have to buy labels and a barcode scanner.
Branding: It will be difficult to build a reputation as customers will receive packaging with Amazon branding all over, instead of your own brand.
Difficult to keep track of inventory: As your stock is out of your hands, it will be hard to keep track of what you have left in stock, what is sold out and what you need to cut back on.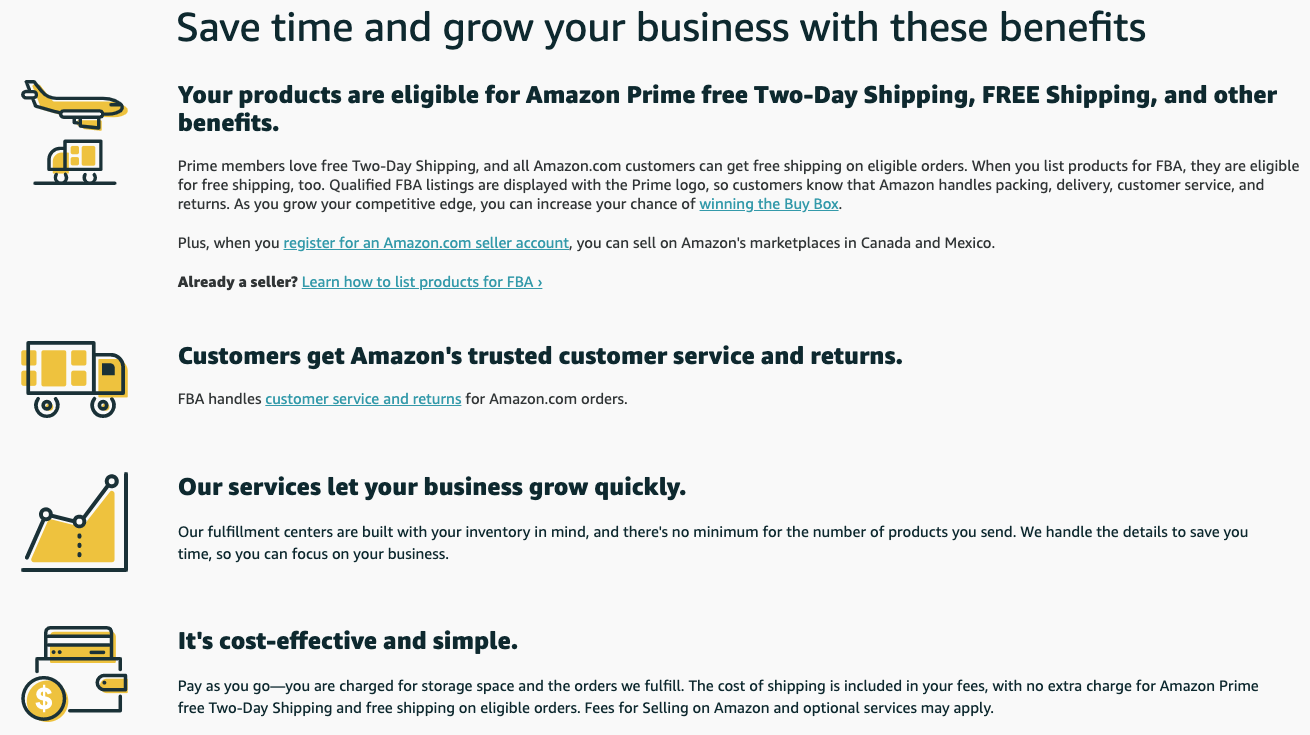 Fulfilment by Amazon strategies for success
Just like selling on Amazon, there are several tactics you must consider to ensure your listings are successful on FBA. Read our guide on how to sell on Amazon for beginners, winning the Amazon Buy Box and make sure you delve into other offerings from Amazon, such as A+ Content.

Remember to
Research competitors and best sellers to decide which products are the most popular, which will help you decide which of your items are worth being fulfilled by Amazon. Popular items sell fast but have more competition. Slow selling products result in long term storage fees.
Start off small, you don't have to put all your stock up yet. It will be easier to create an organised process with a few products, before growing the number of products once a process is in place.
Utilise SEO practices such as keywords to ensure your products are ranked higher than competitors.
Capture your products with the best in product photography, use up all the slots available to upload images and ensure your photos are as detailed as possible.
Ensure product descriptions are detailed and in-depth to support your product images. Your buyers cannot touch or look at the product before it arrives at their doorstep, so it is crucial you develop excellent copy that customers understand.
Your responsibilities when using FBA
Once your products are up on Fulfilled by Amazon, there are only a handful of things you need to remain responsible for while Amazon takes care of the others.
Selecting the right products to sell to avoid storage fees for not-so-popular products.
Checking inventory levels regularly to ensure your products stay in stock to avoid disappointment from customers.
Marketing and promoting products by continually optimising titles, content and images.
Conclusion
Amazon FBA is a great way for any business to get their products accessible by millions of customers while taking advantage of the world's largest fulfilment network. Everything comes with pros and cons and in the end, it's up to you to decide whether joining Amazon FBA is worth it or not.
- - -

About Harjot Singh
All Articles
See MerchantSpring in Action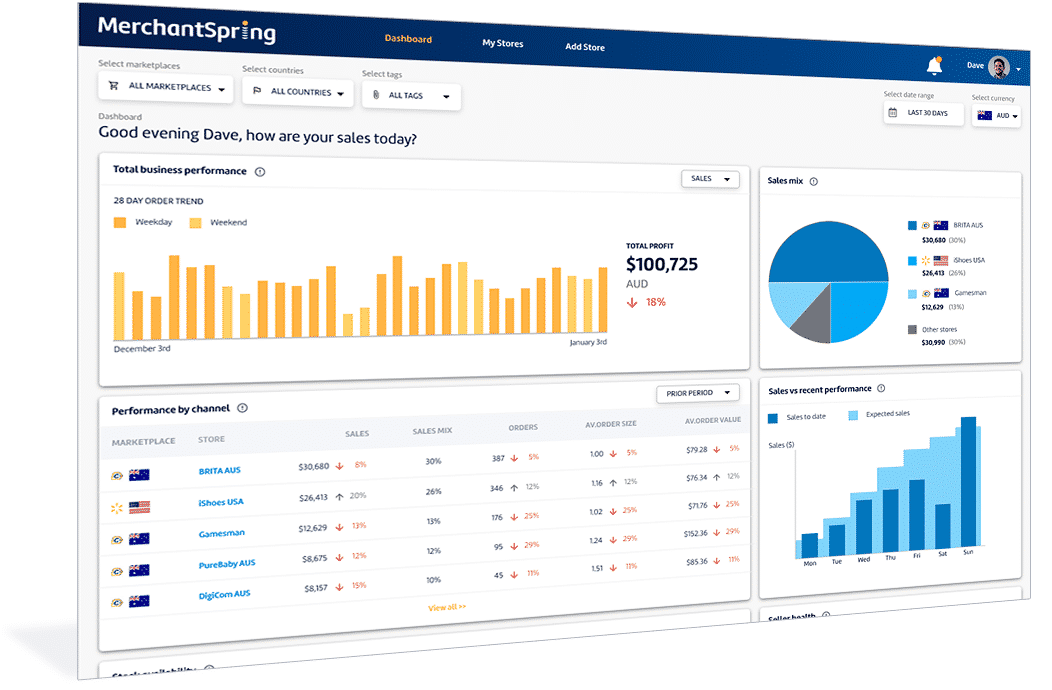 Book Demo