10 Things We Learned Managing 24 eBay and Amazon stores for 12 Months
Managing multiple marketplaces can be tricky. It takes a lot of trial and error. Here are some tips from the multifarious experiences we've had managing eBay and Amazon stores:
Competition is stiff.
There are numerous sellers as there are millions of users/members. You could be the only seller for a private label brand, or you are one of the many fishes in the sea. The challenge is to stand out. Competition is stiff but workable.



Success tip:

Read on to learn more about becoming a successful seller

Change is (more) frequent.
Generally, trends and practices shift pretty fast in the e-commerce marketplaces. Results now may not be so relevant tomorrow. Changes can occur from customer behavior to the algorithm register.



Keeping up:

Monitor your listings regularly and stay up to date on the latest marketplace happenings. Gather facts and reliable data, and make decisions around it.

Content is king.
Not content marketing for this matter. Your image and copy should be informative, presentable, and convincing.

Write as many item specifics as you can and provide comprehensive feature details and product descriptions.

The images should be of high-resolution with white background, no watermarks or text, and features all the necessary angles. Have 3 to 5 professional-looking images.



Caution:

Refrain from putting too much information that will not just overwhelm but mislead the buyers.

Winning the Buy Box.
This is relevant if you're selling on Amazon. There are different criteria based on a specific category that Amazon uses to decide who wins. This includes price, stock availability, shipping speed, and 24x7 customer service (including through Fulfillment by Amazon). Your Seller Health ratings and time and experience in selling are also considered.



Disclaimer:

There is no guarantee that you will win the buy box, but excelling in the above criteria may help.

Offer Free Shipping and don't be late.
Buyers love seeing listings offered with Free Shipping and it positions your listing favourably on the search result page.

Don't forget to ship orders on time as well. It makes the buyer happy and your late shipment rate at bay.



Insight:

While free shipping gets you more buy, prompt delivery gets you more repeat buys.

Keyword is the key.
Increase your listing traffic and boost ranking by adding the latest and relevant keywords and search terms in the copy. Search Engine Optimisation (SEO) is an organic and cost-free way to do it while Search Engine Marketing (SEM) is the paid option.



Caution:

Use keywords in a strategic yet subtle manner. Stuffing your listings (especially the title) with keywords is dangerous. Algorithms like Amazon don't like repetitive and overdone SEO and will drop you to the bottom of the rank.

Promote and Advertise.
Utilize the marketplace's internal advertising tool like PPC (Pay Per Click) for Amazon. On eBay, use Promoted Listings where you only pay when your sponsored listing sells. You can also promote using external advertising platforms.



Bid wisely:

On Amazon, bid high on converting search terms, and bid low (or never at all) on non-performing search terms. On eBay, set your rate within or higher than the trending ad rate, but not lower.

Offer a discount.
Don't bore your buyers with the same price year-round. Without hurting your profit margin, offer various discounts and promos especially during big events like Black Friday/Cyber Monday, Boxing Day, or Amazon Prime Day.



Tip:

Create urgency and excitement for the buyers by offering big discounts for a limited time.

Get more Reviews.
Online buyers listen to and influence each other. Even if they do not know each other personally, they have some kind of a "digital connection" that makes them trust each other's reviews. It's powerful and it helps the buyer in the purchase decision. Encourage buyers to leave you an honest review every time their order is completed.



Caution:

Some disappointed buyers will leave a footprint of their frustration on your reviews section. If this happens, refer to lesson number 10.

Excellent Customer Service.
Buyers keep the business alive and kicking. Wrap up the buyer's purchase journey with good after-sales customer service. We don't want to see negative comments hanging around our listings. It's bad luck. Deal with irate customers skillfully by thinking like a customer yourself and offer a win-win alternative solution.



Insight:

Both happy and dissatisfied customers create ripple effects on the business. The former promotes growth, while the latter triggers shrink.
Once you start gaining sales traction, keep the momentum going. Don't sit back and relax (yet). Establish your brand and build a strong customer base. Repeat and improve the best practices and revise the ones that didn't work.
About Ruth Castillo
All Articles
See MerchantSpring in Action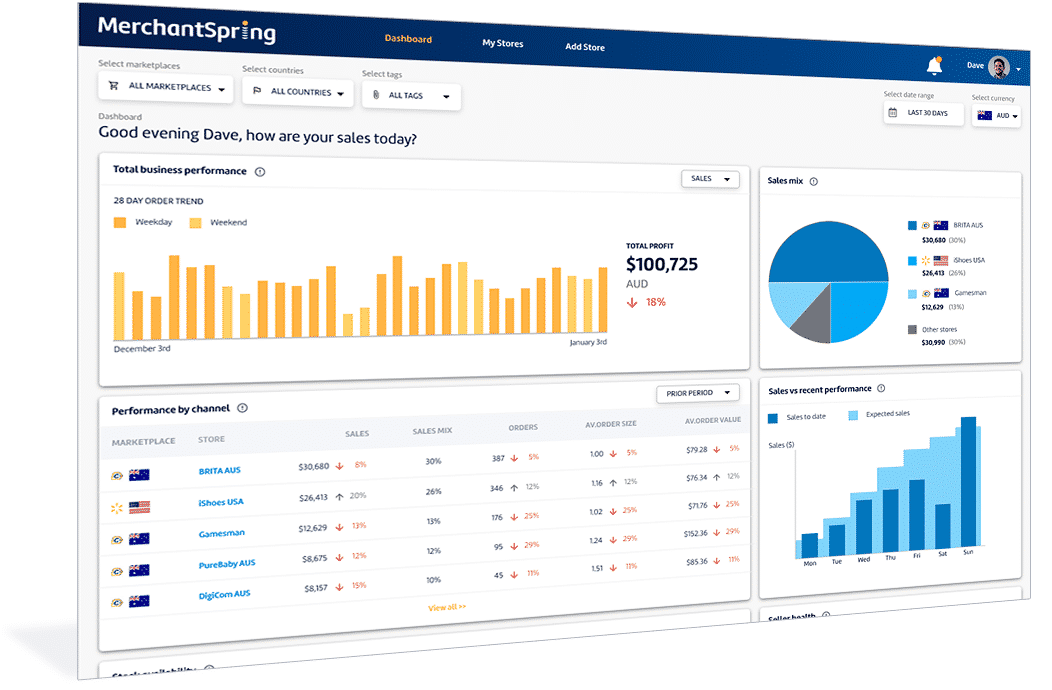 Book Demo