5 Key Features of Software Solutions for Marketplace Sellers
The power of online marketplaces in growing and scaling a business is undeniable at this point. Today, websites like Amazon, eBay, Etsy, and other online shops continue to grow in commerce share and dominance. Predictions show that 95% of all purchases will be through eCommerce by 2040. With this uptrend in motion, it only makes sense that companies should jump into online marketplaces as soon as possible.
But as businesses enter into various marketplaces, they find that managing online stores can be challenging. Managing different types of online marketplaces and running virtual store operations can be daunting without the proper tools and guidance. Thankfully, many exceptional software solutions help marketplace sellers better manage online marketplace stores. When selecting these software solutions, it's essential to know what features your store manager must-have.
Here are five key features and functions that online sellers must have when searching for marketplace manager tools.
1. Marketing Optimization
What are the top features and elements of the digital marketplace? Any store owner will quickly acknowledge that marketing and sales have to be among the principal aspects of digital selling success. When running an online store, you will need a marketplace manager to optimize marketing efforts and sales conversion by learning how to increase traffic to marketplace stores and turn that traffic into sales.
There are marketplace manager tools that help with conversion rate optimization to boost sales, keyword research, marketing insight, and search engine marketing. Find a tool that provides marketing support that will help you get the word out about your business and help turn leads into sales.
2. Consumer Metrics and Insights
One other feature shop managers and owners need to have in a powerful marketplace management tool is robust reporting and analytics. In this day and age of big data sciences and tracking software, analytics, and consumer metrics can give sellers a more significant edge by providing data like website traffic, click-through rates, abandoned cart incidences, and consumer demographics.
With more in-depth and extensive consumer metrics and insights, stakeholders and managers can make better business decisions such as what products to capitalize on, which ones to discontinue, what promotions you can run, who your products cater to best, and so on.
3. Integrated Dashboard for All Your Stores
According to Investopedia, Amazon currently earns $321.78 billion annually. eBay follows with a revenue of over $10.71 billion per year. Getting on those two marketplaces should be a common strategy amongst eCommerce businesses. Yet, these two giants aren't the only online marketplaces available today. Many other niched and not-as-saturated stores that sellers can capitalize on, but many sellers hold back because of the complexity of managing multiple stores at once.
There are over 80 marketplaces all over the globe. In many cases, a business might hold multiple stores to reach numerous markets. This scenario can post a management challenge, given it can be inefficient to jump around various dashboards and manage them in separate tabs.
Services like MerchantSpring help with issues by providing one central dashboard where online shop owners and operators can integrate multiple stores into one backend. By doing so, sellers can save time and resources from jumping around various stores numerous times on any given working day. This edge helps improve work performance and directly impacts customer satisfaction, operational efficiency, and even bottom-line growth in the short to mid-term.
4. Fulfillment and Delivery Tracking
Selling a product is only a fraction of the whole eCommerce picture. After closing a sale, the more significant challenge of fulfilling and delivering the product comes next. Over 40% of customers declared that order fulfillment is one of the most important aspects of a brand experience. Many companies have lost vital long-term client relationships to inadequate order fulfillment. On the other hand, many businesses have grown immensely because of their commitment to timely product and service delivery.
This realization clarifies that order management is another of the most vital eCommerce marketplace features a marketplace management software should have. Some key elements to look for in order tracking and fulfillment are:
An alert system that lets you know which orders need to prioritize.
A delivery tracking system to monitor progress on product shipping.
A centralized shipping dashboard.
5. Finance Management and Bookkeeping
At the heart of any successful online business, like any brick-and-mortar one, is financial health. There's not enough room to stress the importance of financial management and bookkeeping. So when selecting a marketplace management tool, get one that helps keep track of the business' financial side. The most basic numbers a marketplace software must track are sales, shipping expenses, marketing costs, return on advertising expenses, and so on.
The more financial insight a tool can offer, the easier it will be to track your separate online stores' overall health. This feature can also help companies get a better perspective on the company's direction and which marketplace it should double down based on each store's cash flow separately.
Better Management, Better Results
More businesses are using eCommerce software platforms, but not all of them manage those stores well. The advantages of online marketplace management are almost always a given. The better online sellers and store owners manage various marketplace stores, the more results we will see. Be deliberate about choosing marketplace management tools. Finding one with all five features mentioned above will almost always guarantee more sales, optimization, and profitability.
About Kenn Coleman
All Articles
See MerchantSpring in Action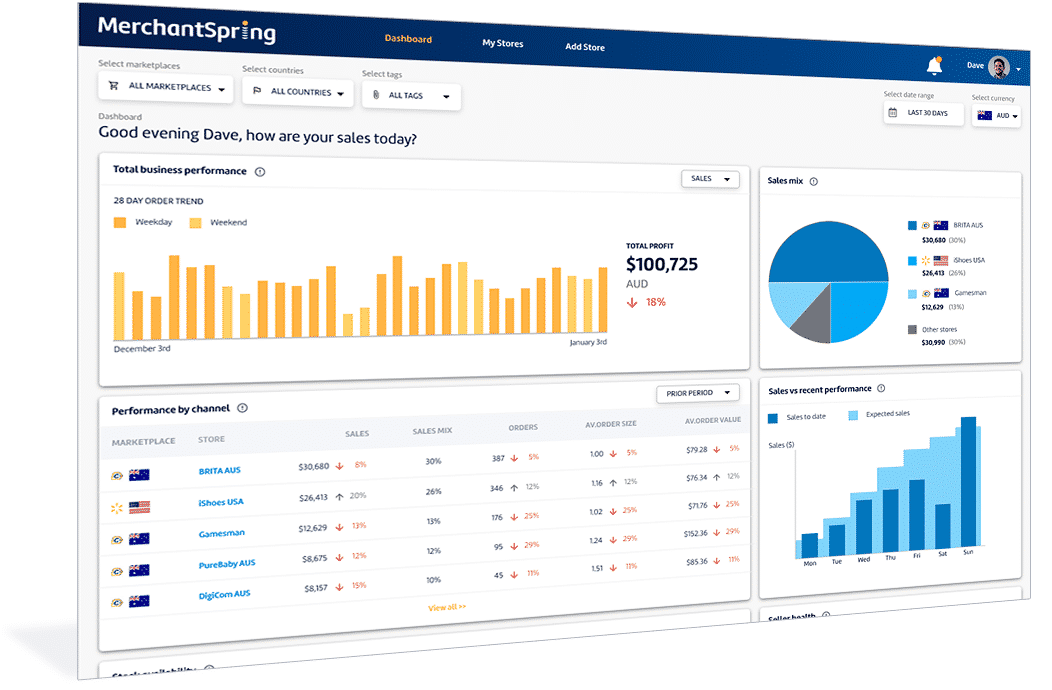 Book Demo