Walmart Fulfilment Service (WFS) vs Fulfilment by Amazon (FBA)
Amazon.com had around 2.45 billion monthly visits as of June 2021, making it the most frequented e-commerce site in the United States but how many of us know that Walmart is ranked number three with over 410 million monthly visits? Amazon and Walmart both have their online marketplaces, with slight differences in registration, pricing, and reach for sellers. While Amazon's marketplace has 1.9 million active sellers, Walmart's marketplace is steadily growing.
In terms of fulfillment service available for sellers, FBA (Fulfilled by Amazon) is probably the most commonly used term. But Walmart has risen to the occasion, continually improving its marketplace's features and operations. In February 2020, Walmart launched the Walmart Fulfilment Service (WFS) - a program designed to provide Walmart marketplace sellers with unrivaled access to the company's world-class supply chain and a viable alternative to Amazon's Fulfillment by Amazon (FBA).
In this post, you'll discover how Walmart's WFS and Amazon's FBA differ from and resemble each other and how you, as an online retailer, can benefit from selling on both.
WFS vs. FBA: Similarities
Walmart's and Amazon's fulfillment services share several key features:
Quick and accurate order fulfillment
WFS and FBA both take care of picking, packing, and shipping your customers' items. Furthermore, both services can do so fast thanks to their extensive infrastructure networks. Simply store your products in the fulfillment locations and leave the rest to Walmart and Amazon.
One of the key advantages of this arrangement is that Walmart and Amazon both have logistics networks capable of handling quick fulfillment turnaround times. Both marketplace fulfillment programs will also pick, pack, ship, and deliver items to your customers utilizing its cutting-edge supply chain skills. This can range from two to one to same-day delivery, depending on the product and the customer's location.
Dependable customer service
WFS and FBA both handle fulfillment-related customer support inquiries for sellers, so they don't have to. Shipping and fulfillment issues account for the great majority of customer complaints and issues, as anyone who has worked in customer care will tell you. Taking these out of the equation can help you save time.
In addition, we all know that Amazon has its seller support called Seller Central. According to Walmart's WFS feature page, Walmart will also have dedicated WFS call center associates to answer all of your questions.
Simple and easy returns
Returns are an unavoidable part of selling things on the internet. Every e-commerce company requires an RMA strategy to determine what to do with products that are returned by customers.
WFS and FBA both make the returns process easier by taking care of everything from RMA requests to shipping labels. Customers can also return their items to one of the participating brick-and-mortar outlets. Walmart customers may return items in any Walmart store or by mail, and Amazon customers may do so by returning items in any Whole Foods or Kohls or via mail.
Enhanced marketing content
The policies for Walmart's Item Page Content look to be comparable to Amazon's A+ Content. With more detailed product pages and increased marketing content, both programs aim to increase sales for certain sellers. Walmart, on the other hand, allows any WFS seller to use Item Page Content, whereas Amazon requires brand registration before developing A+ content.
WFS vs. FBA: Differences
While the benefit WFS and FBA provide to both sellers and customers is quite comparable, there are some major differences:
Becoming a seller
FBA is available to anyone who wants to sell on Amazon. This implies that sellers of all sizes and from all corners of the globe can benefit from the same high-quality fulfillment services. However, because anyone can register to sell on Amazon, this results in rivalries.
Walmart, on the other hand, thoroughly evaluates and approves third-party merchants before allowing them to even sell on Walmart Marketplace. WFS participation is also subject to approval. This barrier to entry pulls out competitors while also ensuring high customer satisfaction. On the bright side, Walmart's strict application policy means less competition with other marketplace sellers.
The consequences of this policy difference are startling. Each of Walmart Marketplace's 33,000 sellers can expect to receive roughly 13 times the number of listing views per month as Amazon's 2+ million sellers. The increased visibility can quickly lead to increased sales conversions with that level of performance.
This major difference in the selection process will also further affect sellers' ranking and Buy Box prominence. Due to the less competition on Walmart, selling on Walmart using WFS is almost synonymous with winning the buy box; the two go hand in hand. On Amazon, however, winning the Buy Box is a challenge on its own – even when you have signed up for FBA.
Monthly subscription fees
When registering for an account on Amazon, you can choose between two selling plans: individual or professional. While the individual account is free to use, you are charged $0.99 per product sale and cannot run PPC advertisements or compete for the Buy Box.
Walmart Marketplace, on the other hand, does not charge a monthly subscription fee to sellers. Walmart only charges sellers a flat referral fee per sale (typically 15% of the product's selling price), plus fulfillment fees if you use WFS.
Selling fees
Apart from having no monthly subscription, Walmart also has a straightforward referral fee structure. If you use WFS, you will be responsible for any additional fees associated with this service. However, WFS, according to Walmart, is a competitive and cost-effective solution that will save sellers money on fulfillment costs.
To put it simply, Walmart employs a straightforward cost structure that includes a fixed monthly storage fee as well as a fulfillment price. This fixed storage and fulfillment fee is determined solely by the shipping weight of your product.
On the other hand, the FBA program requires sellers to pay storage and fulfillment fees, which are structured differently. The FBA fee is determined by the weight and dimensions of your product. This fee includes 'monthly storage' and 'fulfillment.' Furthermore, sellers will be required to pay additional fees such as "long-term storage" or "refund administration" fees.
Customer base
Amazon has a stronger hold on consumers and a broader reach than Walmart. Approximately 73% of US consumers now shop on Amazon, which is nearly double the number of current Walmart's. Amazon receives over 200 million visitors per month in the US alone, which is a big reason why it is the largest online marketplace for sellers.
However, every year Walmart's online customer base expands. Its customer reach has increased by 13% in the last three months, rising from 35% of Americans in the fourth quarter of 2020 to 40% in the first quarter of 2021.

Walmart claims that its online marketplace receives up to 100 million unique visitors per month, so there will be no shortage of customers.
Selling on both FBA & WFS
Before 2020, selling on Walmart.com was frequently impractical due to challenges such as customer support, logistics, and warehousing. However, with the introduction of WFS, there is now a viable alternative to FBA, particularly for smaller sellers.
On each platform, the path to success for vendors is different. Although Amazon is more beginner-friendly than Walmart, there's no reason why you shouldn't sell on Walmart.com if you have a registered US business. Sellers with enough inventory to cover multiple sales channels should consider selling on both FBA and WFS to reach the greatest number of potential customers.
Both channels have their advantages for sellers and Walmart has proven that it's in it for the long haul, and many are eager to see it gain even more traction.
About Chris Mott
All Articles
See MerchantSpring in Action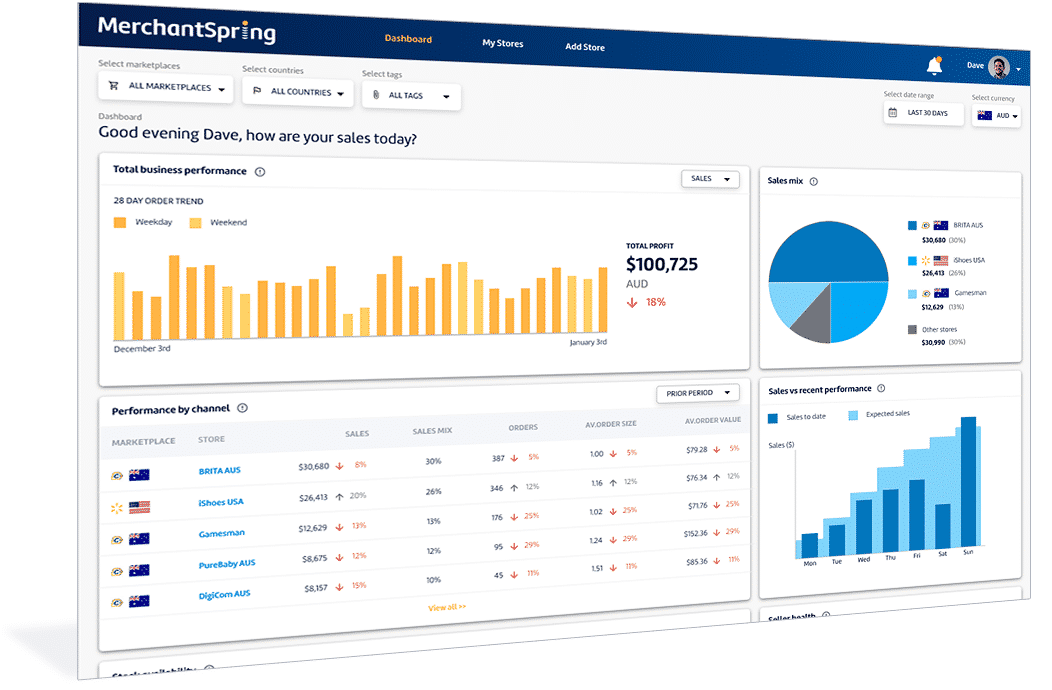 Book Demo