Why (and how) Shopify sellers should capture sales from marketplaces?
Sellers using Shopify have the opportunity to increase sales by connecting their store to marketplaces! Many sellers are taking on the trend of selling on online marketplaces alongside their website for various reasons, such as increasing sales, customer reach and brand awareness. By selling on marketplaces, you have access to customers who already shop on these platforms.

With so many marketplaces to choose from, with eBay and Amazon the largest ones, we'll give you some reasons why you should capture incremental sales via marketplaces.

What are marketplaces?
For those who don't know, marketplaces are essentially an online platform where companies and private sellers sell their products to a variety of customers. Marketplaces look after transactions and allow interactions between sellers and buyers to optimise transactions, to make the sale easy for both parties. Think of it as a major virtual shopping centre with multiple sellers and stores on offer!

Over the years, marketplaces have grown from 'dodgy auction sites' that buyers are wary of to sophisticated sales channels with all the bells and whistles, so much so that a growing number of businesses are now building their business entirely on marketplaces for the convenience and low costs.

Amazon & eBay are the biggest and well known marketplaces across the globe, with Catch, The Iconic, AliExpress, Alibaba, Etsy, Shopee, Wish, JD Worldwide, Lazada, Tmall & TradeMe as smaller marketplaces grown in other countries.

Why do marketplaces matter to Shopify sellers?
The hard part of selling on a standalone website is getting traffic to your site and pushing them through the funnel to purchase products. You'll need to invest in marketing on social media, emails, or other communication channels, which can eat into your budget.

By connecting to marketplaces, you can instantly access millions of shoppers who are loyal marketplace shoppers. That is 167 million customers on eBay or 300 million customers on Amazon - what's better is that it won't cost you a fortune! Just sign up for a marketplace, connect to Shopify and you're good to go!

Which marketplaces are important?
With many different marketplaces to choose from, making a decision to choose the right one for your business may be tough! Listing on marketplaces has many benefits, especially lower costs associated with acquiring new customers while marketplace customers are typically searching for items with the intent to purchase compared to browsing a standalone website. Let's have a look at some of the biggest marketplaces.

eBay
As one of the many marketplaces that are well known across the globe, eBay serves customers on a worldwide scale, therefore your products will be showcased to a large audience. Sellers who sell niche products would benefit from a worldwide marketplace, for example, a seller in Australia may have products targeted to customers in Japan.

As a powerful name, eBay is usually the first place buyers go to to buy gifts, essentials or big purchases such as electronics. Buyers can use the site to compare prices, take advantage of exclusive deals or access products that are no longer available in standard stores, such as limited edition items or discontinued goods.

In the third quarter of 2019, eBay's sold items growth has turned negative for the first time in the company's history, while GMV was down by $1 billion. eBay is still a success story, approaching $90 billion in sold merchandise every year, however they are mostly excluded from talks about the future of the retail industry.

eBay provides many benefits to sellers, such as fixed-price or auction listing options, they have lower fees and have a great reputation as a trusted merchant. With access to a wider network of customers and a greater number of markets, you could see an increase in profits.

Learn more about selling on eBay internationally here.

Amazon
No doubt the biggest marketplace in the world, with $232.9 billion in revenue and a net income growth of 30.9%, Amazon has a massive audience, providing a huge potential for sales. With many perks such as Fulfillment by Amazon (FBA), A+ Content, a trustworthy selling experience, high-standard customer service, free reporting and analytic tools, you wouldn't pass up the opportunity to grow sales on this platform!

Amazon has close to 300 million active users worldwide, while 197 million people visit Amazon every month. The average Amazon seller makes at least $1000 per month in sales while bigger sellers can make up to $250,000 per month in sales, which is pretty impressive. Approximately 50% of all sales on Amazon come from third-party sellers.

Amazon currently operate 16 marketplaces worldwide; the US, Canada, UK, France, Japan, Australia, Germany, Italy, Singapore, United Arab Emirates, Turkey, Brazil, Spain, India, China & Mexico.

Learn how to get started on Amazon with our handy step-by-step guide

Lazada
Founded in 2012, the Lazada Group is Southeast Asia's main eCommerce platform, available in six countries - Indonesia, Malaysia, Philippines, Singapore, Thailand and Vietnam. Lazada launched their marketplace in 2013 to allow third-party sellers to sell their products through them. It was a success, with 65% of its sales made via the marketplace model in 2014.

With over 145,000 sellers, 6 million users, 300 million products and 4 million daily visits, Lazada provides customers with an effortless shopping experience while offering a range of products like electronics, household goods, fashion and sports equipment.
What to think about before getting started
Different marketplaces have different requirements, benefits, pros and cons. Each one has its own set of rules, while some have a specific audience that may not be interested in your offering. Some may take a commission on every sale you make, while others may charge you a fee to put a listing up.

It is essential that you do thorough research and weigh any costs and benefits before signing up. Focus on the platform you feel meets the fit of your product catalogue until you're familiar with it, before joining another marketplace.

Hiring a team to look after your marketplace is a plus, as they will be responsible for store operations, marketing, managing merchandise, promotions and overall supervising your account to ensure things are running smoothly.

The most important thing to think about before getting started is content. Each marketplace has different unique requirements, for example Amazon's title character limit is 100 whereas eBay's is 80. Amazon listings usually have 5 bullet points, a main description and up to 10 product images while eBay allows HTML descriptions, requires item specifics to be filled out for a listing to be approved and allows up to 12 images. Getting a copywriter to create content for different channels is worthwhile to get the most out of your marketplace selling experience.


What do you need to get started?
Firstly, decide on your inventory, which products will you put up in your marketplace? Will it be your top selling products or will you list it all? How are you going to price the products to help them sell?

Secondly, do you have the right content that looks great, describes your product accurately, is unique and meets the requirements of each channel? Your products need to be presented attractively to grab the attention of your buyer's, while precise copy content that describes as much of the product gives consumers the confidence to add to cart.

A necessity to ensure your inventory is managed properly is to invest in a tool to connect your Shopify store to the marketplace of your choice. Such tools include Omnivore, Comestri, ChannelAdvisor and ecomdash.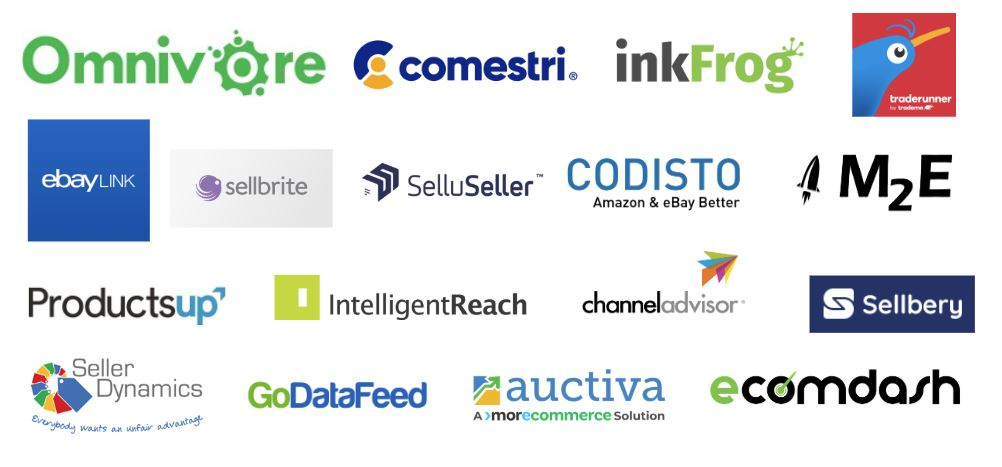 Finally, it is important to have some logistic processes in place to meet the requirements of your marketplace. Are you able to provide tracking numbers, dispatch notifications and fulfil orders to your buyers?

Learn more about marketplace integrations and content control here.

Simplify your marketplace management in a single platform with our Marketplace Manager, easy to set up and receive real-time insights, recommendations and sales performance!
Conclusion
Tapping into marketplaces is one of the easiest ways to access millions of more customers from various countries while increasing brand awareness and raising profits at low costs. It is worth taking time to look at different marketplaces on offer in your country and to consider the pros and cons of each before making your decision.

Marketplaces are becoming the new norm for shopping and there are no signs of it stopping. For a while, Amazon & eBay were the two main marketplaces. Now you can choose from many open marketplaces to specialised ones focused on niche markets… there is a marketplace suitable for every seller!
About Harjot Singh
All Articles
See MerchantSpring in Action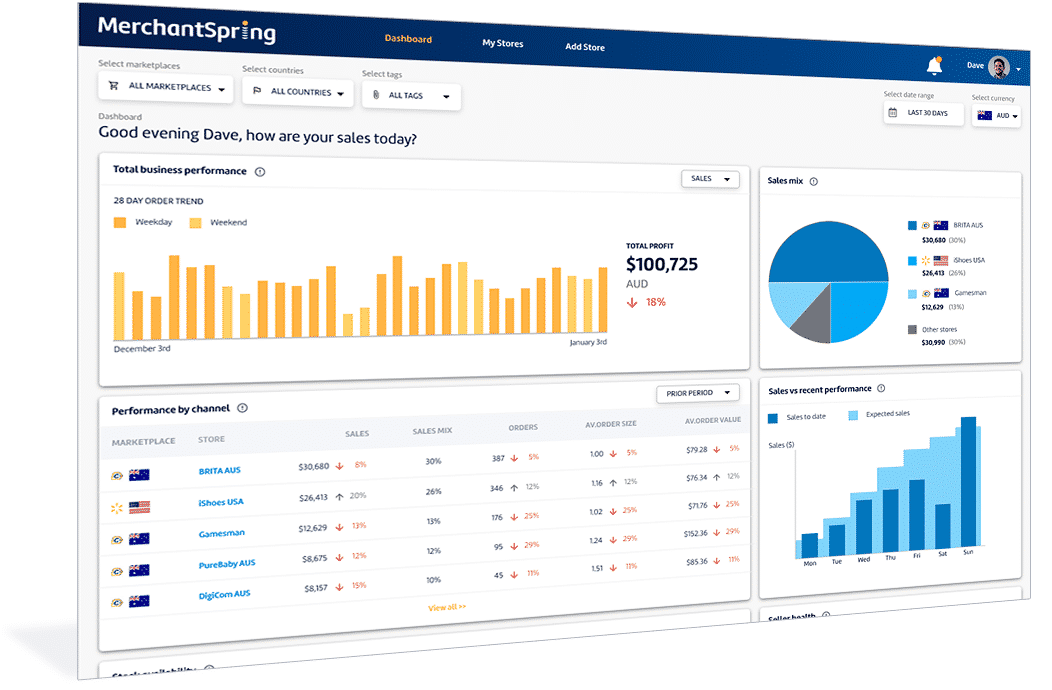 Book Demo