Top 10 Amazon Seller Metrics to Watch Out for in 2021
Amazon has high performance expectations for sellers. This is because they value customer satisfaction above everything else.
The retail giant only wants sellers that provide positive experiences on their site. So, if you are an Amazon seller it's crucial that you monitor your performance metrics.
Account metrics are part of how Amazon ranks sellers. They are not just rules sellers should follow to remain in the good graces of Amazon.
Understanding metrics will give you insight into your Amazon account health. They will show you how to optimize inventory, pricing, sales, and customer satisfaction.
This guide will show you the 10 most important Amazon Seller metrics you need to watch out for in 2021.
Order Defect Rate
This metric evaluates your ability to provide a good customer experience. It measures the shoppers who had a negative experience, and your capacity to handle users' complaints.
Order Defect Rate can also increase if a buyer requests a refund because they received bad service or if the product is damaged.
The Order Defect Rate metric evaluates three factors:
A-to-Z Guarantee Claim Rate - Orders that received an unsatisfactory claim
Negative Feedback Rate – Orders that received negative feedback
Credit Card Chargeback Rate - Orders that received a fraud or service chargeback
These factors are divided by the total number of orders you received over a 60-day period.
You must keep your Order Defect Rate under 1%. Anything above and Amazon may suspend your seller account.
If your account gets suspended, you will have 17 days to show Amazon how you plan to improve your customer experience.
Tend to your customers to keep your Order Defect Rate from spiking. Being attentive reduces negative feedback and increases the traffic of your product listings.
Sources: Amazon Seller Central and RepricerExpress
Seller Rates
There are three seller ratings you should look out for:
Customer Service Dissatisfaction. Determines the dissatisfied customers with your responses in Buyer-Seller Messaging. The negative responses should remain under 25%.
Contact Response Time is the time you take to respond to shopper's messages. You should respond to customers within 24 hours. However, Amazon will only penalize you if more than 10% of your replies are later than 48 hours.
Seller Feedback comprises the reviews customers make about your brand and service. The rating is a score from 1-100. It includes 6 metrics:

Shipping time
Cancellations
Chargebacks
Customer reviews
Customer inquiries
A-Z guarantee claims
Pre-Fulfillment Cancellation Rate
Pre-fulfillment cancellations are all seller-cancelled orders prior to shipment confirmation. Pending orders cancelled by Amazon users are not included.
Cancellations may happen when a seller doesn't have enough stock to fulfill a customer's order.
The rate is calculated by the number of annulments divided by the orders taken within a given timeframe.
Your Pre-Fulfillment Cancellation Rate should always be less than 2.5%. Anything more may result in an account suspension.
Keep your rate below 2.5% with proper stock management. Update your records to show the total units at your disposal on Amazon warehouses. Restock when necessary to prevent unwanted cancellations.
Late Shipment Rate
The Late Shipment Rate represents orders confirmed after the expected ship date.
Amazon calculates it dividing the overdue orders by total orders over a 10-day or a 30-day period. The shipment date is set two business days after an order placement.
If more than 4% of your orders are not confirmed by the expected ship date, your Amazon account may be deactivated.
Avoid late dispatches at all costs. They lead to customer frustration and bad reviews. Always confirm shipments by the expected ship date so customers can see the status online.
Valid Tracking Rate
Amazon customers use valid tracking numbers (VTN) to check where their orders are, and when they will receive them. The Valid Tracking Rate (VTR) measures a Seller's use of VTNs.
Amazon considers a tracking number as valid once it has been scanned by a courier. They also use promised delivery date to determine which orders are included in the metric.
To calculate VTR, Amazon divides the packages you ship with a VTN by the total packages you have shipped and confirmed over a 30-day period.
You must keep a 95% Valid Tracking Rate. A lower rating could restrict your ability to sell non-FBA items.
A poor VTA also decrease your eligibility to participate in Premium Shipping and guaranteed delivery. In the worst-case scenario, your Seller account will be suspended.
Invoice Defect Rate
Amazon Business customers expect invoices for tax and accounting purposes. The Invoice Defect Rate tracks all orders for which an invoice was not uploaded.
Invoices must be uploaded within one business day after shipment to avoid penalties from Amazon.
As a seller, you are expected to maintain an IDR below 5%. There is no penalty for not meeting the performance target now.
However, starting from 5 April 2021, a poor Invoice Defect Rate performance may result in account deactivation.
Inventory Performance Index
Your Inventory Performance Index (IPI) evaluates how well you manage your inventory over time.
The score combines three months of sales, stock levels and costs into a single metric that is updated weekly.
Amazon limits storage for sellers with an IPI below 350. Your IPI can decrease if you hold excess inventory, or if you run out of stock on a popular product.
Keep an optimal IPI by reducing excess or stranded inventory. Also update your stock when necessary.
Source: Helium 10
Product Policy Compliance
Product Policy Compliance deals with complaints from other sellers. You can find this metric on the Performance Section at Seller Central. From there, go to your Account Health to find the following data:
Listing Policy Violations
Complaints for Intellectual Property,
Product Authenticity,
Product Condition, and
Product Safety
Product Policy Compliance deals with complaints from other sellers. So, checking your account performance is a must. This way you can quickly address issues that require your immediate attention.
Conversion Rate
The Conversion Rate keeps track of how many shoppers viewed your listing, the customers who bought from you. It is a good sign of your Amazon store's performance.
Along with conversions, you should also investigate your Unit Session Percentage Rate. This metric is calculated by dividing the number of units ordered by the number of total sessions.
High conversion and session rates indicate that users are coming to your page and buying your products. Low rates may call for some changes to your selling and advertising strategies.
You can find your conversions and sessions within the "Detail Page, Sales and Traffic" of your Amazon Seller account.
Amazon Pay Per Click
Advertising on Amazon is one of the best ways to drive revenue. If you want to scale up your Ads presence in 2021, then you should keep track of your Pay Per Click (PPC) metrics.
PPC is Amazon's internal advertising platform. Third-Party sellers can use PPC to ad campaigns for their products.
When you use PPC, your ads show up in competitors' listings, and in search results. Amazon then charges you each time a potential customer clicks and views your advertisements.
The PPC systems has its own metrics to measure a seller's ad performance:
Advertising Cost of Sales (ACoS)
ACoS shows the percentage of sales spent on advertising, and how much revenue you are generating from a single ad spend. This is calculated by dividing total ad spend by attributed sales earned from the PPC ad.
Total Advertising Cost of Sales (TACos)
TACoS measures how much you're spending on paid Ads against how much revenue you're earning. It is calculated by dividing total ad spend by attributed sales earned from all your PPC ads.
Return on Ad Spend (RoAS)
Your RoAS measures your total return on investment for your paid advertisements. You can calculate it dividing your total ads sales by your ad spend.
Final Thoughts
Amazon will always look at your performance metrics. Your scores tell the retail giant whether you are an eligible seller. Remember they will take action if you fall short.
The worst-case scenario for negative metrics is a Seller Account suspension. Should this happen, make improvements at once before appealing to Amazon for reinstatement.
You also need to prepare a plan of action to further prove you can improve your performance. Otherwise, Amazon will not reactivate your account.
Monitor these 10 metrics regularly to know where your Seller account stands. They will grant you a lot of insight into what you need to improve to succeed on Amazon in 2021.
If you improve your seller performance score, you will notice a significant impact on visibility and sales.
Positive results will increase conversions, customer experience and revenue.
Author

Esteban Muñoz
Esteban is an SEO copywriter at AMZ Advisers, with several years' experience in digital marketing and e-commerce. Esteban and the AMZ Advisers team have been able to achieve incredible growth on the Amazon platform for their clients by optimizing and managing their accounts and creating in-depth content marketing strategies.
About Ruth Castillo
All Articles
See MerchantSpring in Action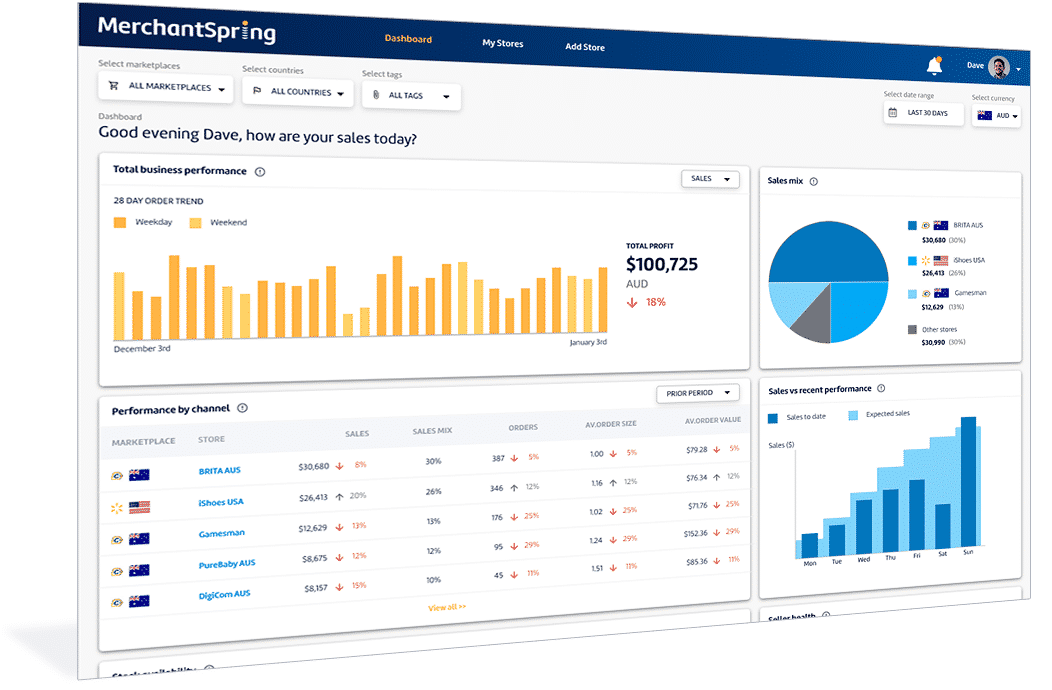 Book Demo