The Role of Finance in Amazon Seller Life Stages
Becoming an Amazon Seller requires you to face a series of stages to get the funds that you need for growing revenues. In the beginning, when you are starting the business, there are no financing options beyond your own money and your inner circle. Then follows a stage when you need some cash in order to make investments in marketing and inventory, and finally you reach a maturity stage where you are able to access SBA and bank financing.
Financing plays an important role in each of these stages and it becomes primordial to know which your options of getting financing are in each of them.
Are you an Amazon Seller? Are you thinking of becoming one? So, let's see how financing impacts Amazon Sellers through different life stages.
How financing impacts Amazon Sellers through different life stages
Depending on the maturity degree of an Amazon seller, financing impacts business in a different way. Which are these stages and how financing impacts them?
Starting up the business. This is the most difficult stage in terms of funding sources. At the very beginning of this process, Amazon sellers need around 10.000 or 15.000 dollars to buy the initial inventory. No revenues make it harder and consequently sellers have to rely on themselves or their inner circle in order to be able to start positioning their business.
Time for marketing. Once the first stage is over, first revenues arrive and new needs emerge: more inventory and marketing investments. Being an Amazon Seller requires traffic attraction and, therefore, marketing investments become crucial. At this point, it is possible to opt for shorter-term revenue-based financing that allows these necessary investments to move forward.
New acquisitions. After these first stages, the suppliers will start to make it easier, sometimes offering their own financing, and the profits obtained make marketing investments possible. So, it's time to move forward to the next step:

Launch new products?
Launch a new brand?
Buy an existing brand?
What about hiring?
Whatever the objective is, there are new medium and long-term ways of financing. One of the most competitive solutions at the moment is non-dilutive revenue-based financing from Boopos. When an Amazon seller is thinking of buying a new business or growing, this solution allows them to keep equity and pay back flexibly. Additionally, Boopos requires no personal guarantees and is able to fund in 7 days with unrestricted use of proceeds.
Maturity stage. Bank financing arrives when this last stage is reached. At this point, it is possible to access bank or SBA financing as long as your business has a track record to back it up and your tax returns are positive.
Sellers Uncertainty Journey
The so-called "Uncertainty Journey" of an Amazon seller directly influences the seller's access to financing. Thus, we can find different scenarios for these companies depending on three key factors: the uncertainty of the project, the size or volume of the company, and the impact of technology throughout the process.
What are these three scenarios?
Ideal scenario. In this case, we found a very small degree of uncertainty and large business size. Additionally, the use of technology and Data Analytics to generate dashboards to measure the performance of operations is a priority. In this scenario, access to different types of financing is easy.
Standard scenario. The most commonly found among Amazon Sellers. In this case, the uncertainty degree is higher, being its size much smaller. Over time, this uncertainty decreases, and volume increases. In this situation, the seller can access some sources of financing to continue growing.
Worst case scenario. It happens when the degree of uncertainty remains very high throughout the seller's life stages. Accessing financing becomes very complicated.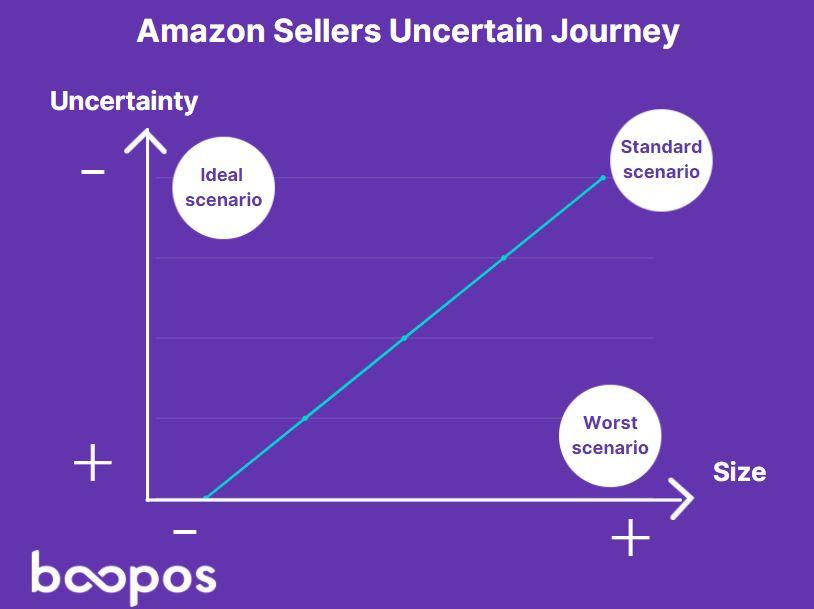 Amazon Lending Program
Amazon Lending was born in 2011 to help small businesses finance and sell more goods on Amazon. Today, Amazon's business lending is available in the United States, United Kingdom, Germany, Canada, China, France, India, Italy, and Spain. Amazon also offers consumer lending in the US in the form of partner cards.
At an early stage, Amazon Lending initially partnered with Bank of America Merrill Lynch to issue loans on an invitation-only basis that could range between $1,000 to $750,000. In 2020, Amazon signed similar partnerships with Goldman Sachs in the U.S. and ING in Germany.
From 2011 to the first quarter of 2019, Amazon reported it issued $5B across more than 20,000 businesses in the US, Japan, and the UK.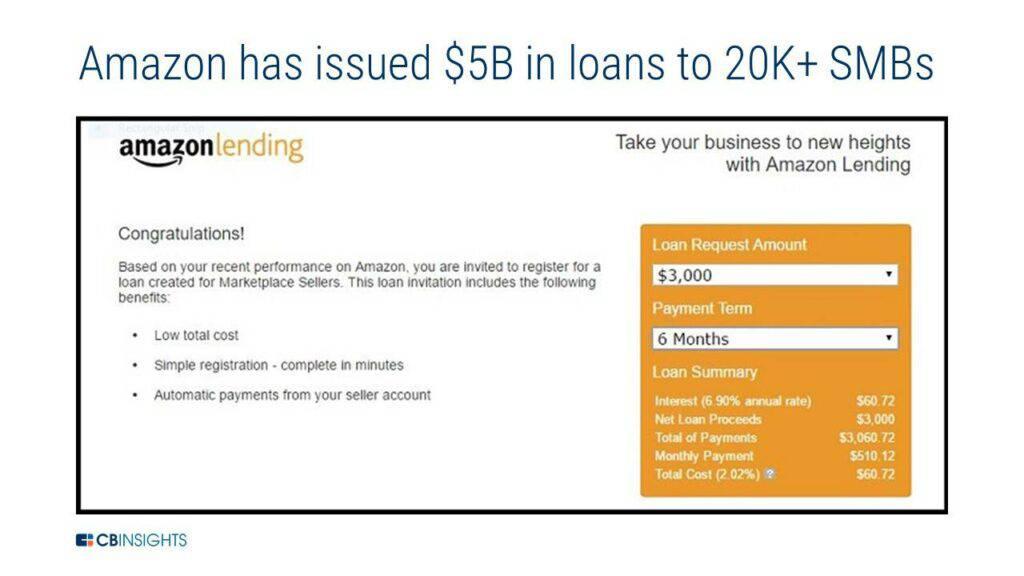 Source: https://www.cbinsights.com/
Who Can Get an Amazon Loan?
Amazon business financing options are extended to eligible sellers and the application process is 100% digital. Currently, this program is only available to small business owners who sell on the Amazon marketplace.
Additionally, although Amazon Lending is specific to Amazon Sellers, you can't simply apply to this program. The term "eligible sellers" makes reference to those who have received at least two invitations from Amazon: the first one to become a vendor (after being a seller) and the second one to access its financing program. You can only take advantage of their financing if you receive an offer to do so from Amazon. Amazon sends these to sellers directly through their Seller Account.
How Does it work?
Amazon Lending only offers short-term financing solutions, with 12 monthly repayment periods.
Although we do not have the specific data, Amazon has said that its loan rates are lower than most business credit cards and merchant cash advances.
The company offers its Amazon loans within a range of $1,000 to $750,000.
One of the most important things to remember about Amazon loans is its restricted use of proceeds (basically for inventory financing).
Amazon Seller financing
One of the basic strategic Amazon goals is to increase the number of sellers in its platform, increasing likewise participation in the Amazon ecosystem.
Amazon is one of the most important actors in the online shopping paradigm that seems to be called the world e-commerce leader, especially after the pandemic struck. According to Statista 2021, Amazon's market share of the U.S. e-commerce retail market will account for 50% of the entire e-commerce retail market's gross merchandise volume (GMV).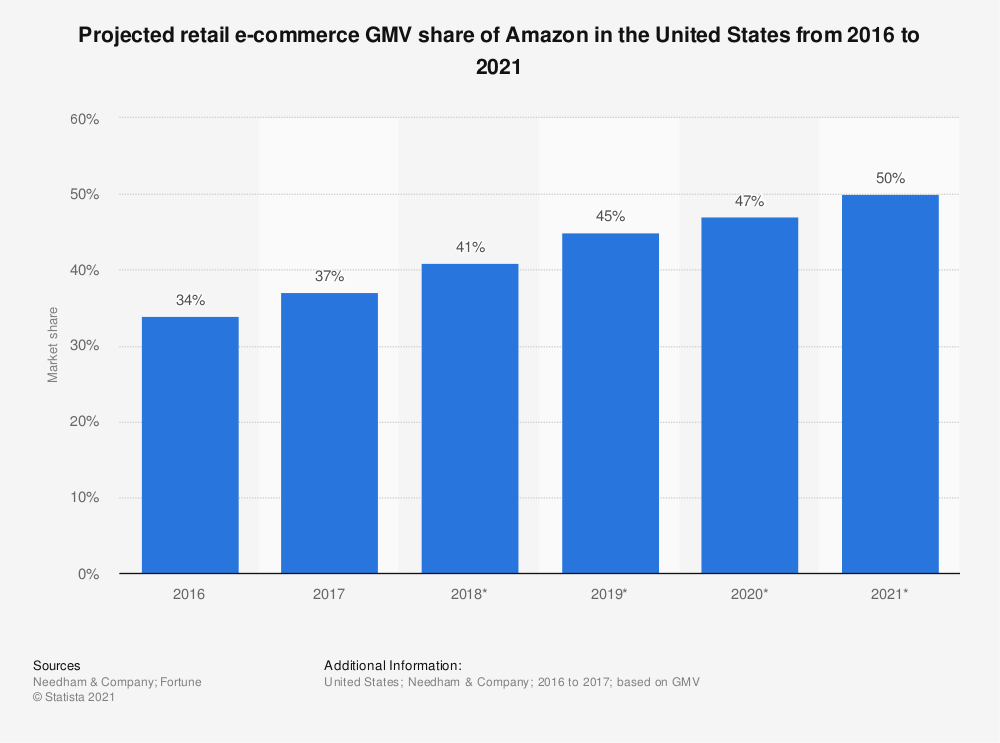 Source: Statista
In this scenario, some of the small businesses through Amazon are asking about how to get funding to scale up on Amazon. As we have already seen, these small businesses have to deal with financing difficulties when they eventually look to increase their product line, make marketing investments or buy a new Amazon brand. Financing has a huge impact on each Amazon seller's life stages and it is crucial to know which tools can best help your business grow.
In this sense, Boopos offers revenue-based financing facilities as one of the best solutions for Amazon Sellers. Our alternative financing solution will keep Amazon Sellers equity and pay back flexibly. Let's partner and get funding in an easy, faster, and no restriction way.

Guest Author

Sandra Gil
Marketing Manager | Boopos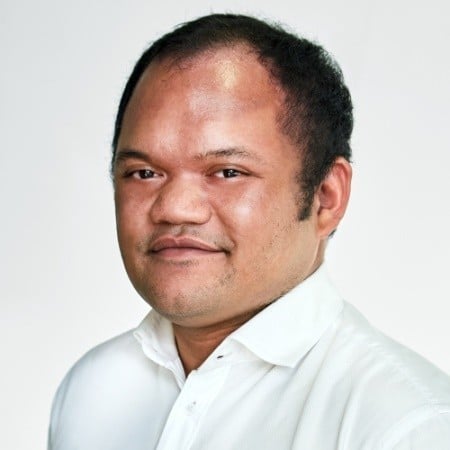 About James Dihardjo
All Articles
See MerchantSpring in Action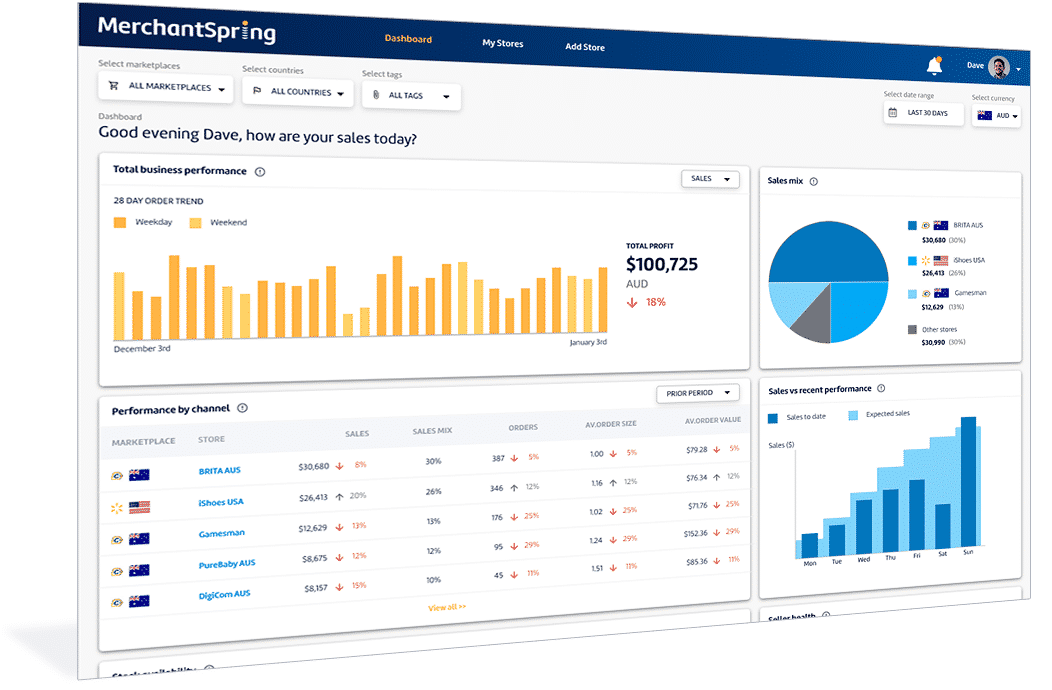 Book Demo