Winning the Amazon Buy Box in 2020
Everything you need to know about securing that all important amazon Buy Box button and boosting your sales.
What is the Amazon Buy Box and why is it important?
Customers shopping on Amazon are looking for an easy and quick purchase. Amazon's branding is centred around making their customer's experience as hassle-free and quick as possible.

This is where the famous Amazon Buy Box comes in. And it is this Buy Box that you need to secure.

On a product detail page, a button will appear to the right of the product page. This will either say:

Add to cart
See more buying options
Having the option to add straight to your cart is a real money maker. This is what is known as the Buy Box on Amazon.

82% of all of Amazon's sales made on a desktop go through this magic Buy Box. This only increases with mobile shoppers.

Securing the Buy Box is the key to preventing other sellers from hijacking your sale. Without the Buy Box, shoppers will have the option to select "see more buying options." This could see you put in a great deal of effort making your page look great, only for a competitor to bag the sale.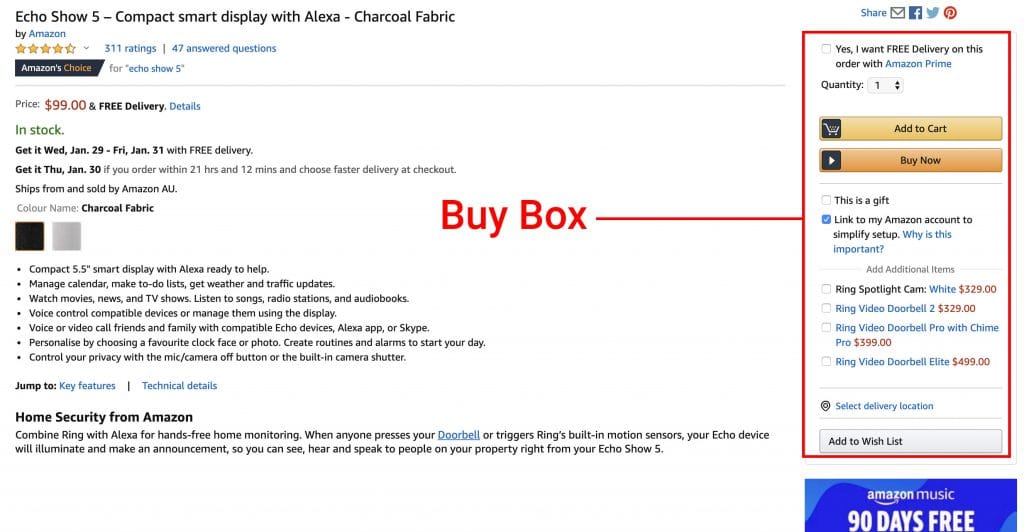 Securing the Buy Box is no easy feat.There are a number of factors that influence who wins the Buy Box. In order to secure the magical button you need to be aware of this.

You'll need to work out the algorithms behind securing that all important Amazon Buy Box and adjust your strategy accordingly.

There's also not just one winner of the Buy Box, but rather a winner/loser of a share of the Buy Box. This is known as the Amazon Buy Box percentage.

Sellers have to pass the minimum eligibility requirement, but at this point, sellers are compared according to different variables.

If multiple sellers are selling more popular items, merchants may find their spot is rotated on the Buy Box.

Essentially vendors will find that they are sharing a percentage of the Buy Box with other sellers, depending on how strong a seller they are.

Sellers will have an Amazon Buy Box percentage rather than winning 100% of the box.

A top-ranking seller may be the Buy Box seller for 70% of the day, while the lower-ranking seller could only have access to the feature for 30% of the day.

As a seller looking to improve your Amazon seller health metrics, using a seller tool, such as Marketplace Manager could be beneficial in this instance.
Also Read : Are you an Amazon Vendor? Here is guide to drive sales!
Mobile Buy Box
Securing the Buy Box can have even greater benefits when it comes to targeting mobile shoppers.

In December 2019, Amazon.com (US) had 307 million unique mobile web visitors. On Amazon's mobile site, the Buy Box has an added importance.

On the mobile site, the Buy Box is featured directly under the product image. There is no option to view the "Other sellers on Amazon" box.

Only the name of the Buy Box winner is displayed.This makes securing the Buy Box space even more important when it comes to mobile device users
Who qualifies for the Buy Box?
You'll need a professional plan
Casual sellers cannot qualify for the Buy Box. You'll need to be a professional seller and be paying a $39.99/ month subscription fee.

You'll need to be Buy Box eligible
Buy Box eligibility is a status that is awarded to highly experienced sellers, who have spent time selling on Amazon and possess high levels of performance. This information is only disclosed to the seller themselves on their Amazon Seller Central account.

To check this simply click on the inventory tab in Amazon Seller Central and Select Manage Inventory.
Then click on the Preferences tab.
In the Column Display section, locate the field for Buy Box Eligible.
Select Show When Available from the drop-down menu.
Look at the Buy Box Eligible column for a particular SKU. If the seller is eligible, it will say yes.
Amazon's reputation rests on good customer service and reliability. You'll need to display a proven sales track record and evidence that you'll really deliver for a customer. This means the following will have to be in order:
A low order defect rate
Offer a positive customer experience and have outstanding customer reviewers
Positive performance metrics
Seller seniority and experience
Affordable prices
Have been selling on Amazon for a significant amount of time
New and available stock
You'll need to have new items and available inventory of your listed items in order to qualify for the Buy Box
How to win Buy Box on Amazon
There is a correlation between generating the top organic results on the Search Engine Results Page (SERP) and securing the Buy Box.

The higher your items appear on Amazon's SERP, the more likely it is that you are going to secure the Buy Box.

Using a tool such as Marketplace Manager here, will help you to develop key insights. You'll be able to work out what's working with your Amazon strategy to increase your SERP, and what's not.

Remember, Amazon uses algorithms to workout who is worthy of the almighty Buy Box button. As a seller you need to work out the factors behind this algorithm. This is key in working out your Amazon strategy in order to secure the Buy Box.

Use Fulfillment by Amazon (FBA)
This is an incredibly straightforward process. You upload your listings, make a sale, and then ship your item to an Amazon fulfilment centre in Europe, where Amazon takes care of the rest.
Amazon considers their fulfilment service to have perfect metrics across variables.

Packing, distributing, inventory and customer storage is all taken care of. Therefore, it's the easiest way to increase your chances of winning the Buy Box.

You store your products in an Amazon fulfilment centre and Amazon takes care of the rest.

While there are no added set-up charges or subscription fees, you will have to pay fulfillment and storage fees, which vary according to item dimensions, weight and necessary shipping methods.

Fulfilment by Amazon is a good option to consider if you are expecting to shift a lot of stock, otherwise it could not be cost effective.

Consider Seller-Fulfilled Prime
If you choose to not use FBA, you can still enjoy the benefits of Amazon Prime.

While maintaining control over your own shipment (especially worth it for sellers with heavy products), you'll still have a greater chance of winning the Buy Box and getting access to Prime members.

However, achieving this requires you to have strong overall metrics.

Make your landed prices affordable and competitive
Landed prices = the total price of an Amazon product + shipping.

Securing the Buy Box does not mean you need to have the cheapest prices going, it does however mean you need to have competitive prices.

Listing your products at a price comparable to your competitors prices is key when it comes to securing the Buy Box.

Be sensible when creating a pricing strategy. Take into account your overheads before you reduce your pricing.

Keep in mind, it's a balancing act when it comes to pricing. If your performance metrics are higher than your competitors, your pricing can afford to be higher too.

Improve customer experience and your feedback score
Amazon's main priority, and the reason for its success, is due to customer satisfaction. Therefore, ensuring that as a seller your customers are happy, is going to have a huge impact on your road to that Buy Box.

Make sure your seller feedback is glowing, rather than negative. Be wary, that often customers can confuse this with product feedback. If this is the case, Amazon can rectify this mistake, once they've been alerted and if they believe that the negative feedback is unjustified.

If you're FBA and have a negative review, this can also be rectified, as Amazon take responsibility here.

Improve Shipping and Handling Times
If you've opted out not to use Fulfilled by Amazon, you need to make sure that your shipping times are still up to date.

Amazon's brand prides itself on being the best of the best when it comes to ecommerce. Which is why it's unlikely that they'll promote a product via the Buy Box if the shipping and handling times aren't up to scratch or longer than other selling options.

If you are fulfilling your products yourself, make sure to waste no time in the shipping process.

Maintain adequate product inventory
Abundant product inventory increases Amazon's trust in you as a seller, that you'll be able to fulfil orders.

If you're fulfilling your own orders, it's harder for Amazon to keep tabs on your inventory. If you are using FBA however, Amazon is strictly measuring the stock already in an Amazon warehouse, rather than the stock you may be keeping in your own warehouse.

If you have a product that your selling through FBA you need to ensure that you don't run out of stock and replenish quickly. Remember to take replenishment times into account. Amazon will automatically remove you from the list of options if your stock in FBA runs out.

For those sellers fulfilling orders yourselves, remember to implement buffers to avoid overselling. For example, you want to avoid selling the last quantity of an item to multiple people.
If you fail to fulfil an order because of low stock, you could risk a poor review.

Ensure you always have enough stock going.
Amazon's Balancing Act
Amazon are constantly aiming to give the consumer the best value for their money.

Amazon does this by balancing up low prices with higher seller metrics. As a seller, you therefore don't need to have perfect performance metrics and cheap prices, but rather a positive balance of the two.

For example, with near-perfect performance metrics and higher prices, you can still be in the running for the Buy Box.

When it comes to 'winning' the Buy Box there is a variety of questions to ask.

What if you're competing against other third-party sellers or Amazon itself? Surely Amazon have perfected their customer metrics.

While it is possible to "beat" Amazon to win the Buy Box, it is highly unlikely. Avoid trying to compete with Amazon directly for the Buy Box, but rather consider an alternative product to sell.

While this is true that Amazon do remain difficult to beat, with great customer metrics and low prices this is possible.
Pricing strategies
So we know that winning that Buy Box button relies quite heavily on your pricing. But that doesn't necessarily mean low prices lead to a high chance of securing the Buy Box.

There are three main methods of repricing used on Amazon:

Manual
Manual repricing is a great method for when you're starting out on Amazon. Simply, you manually update your prices.

However, if you start hitting those profits and shifting stock, this method is largely unsustainable.

This is especially true if you're selling slightly more competitive items.

Rule-based
This method allows you to set predefined rules which then determine the pricing of your products.

For example, you could set a rule that allows you to beat your competitors buy a certain amount. Alternatively you can set a rule to let you stay in the lowest price bracket.

While an easier method the downsides still exist.

By looking only into competitors pricing, the method is limited in it capabilities. Not to mention, setting up the rules can take up time in both conception and management.

You also have to remember that pricing isn't the only thing impacting your chances of getting that Buy Box. You might be competing with someone with outstanding seller metrics, in which case they can afford to price slightly higher.

Be wary too, when you go for the rule-based repricing, you could be creating a price war. This could see profits fall for everyone.

Algorithmic repricing
As we know, there are a variety of factors that go into your chances of winning the Buy Box. With algorithmic repricing, all of these variables are taken into account and monitored.

Algorithmic repricing won't force you to compromise on your Buy Box share or your profit, but will rather balance the two.

Proven to deliver the highest return on investment for merchants, this method isn't cheap.

You'll want to consider if you're making the necessary profits to afford this method.
Buy Box Alternatives
Winning the Buy Box isn't your only way to secure sales on Amazon, so don't worry if for some reason it's not working out for you.

Other Sellers on Amazon
Underneath the Buy Box is a listing of up to three select listings. These must also comply with Amazon's Buy Box requirements.

While less visible than the Buy Box, there is a greater chance of conversion than the products not being listed at all.

Offer Listing Page
Featured on this page is a list of all sellers selling a particular product, whether they are Buy Box eligible or not.

These offers are listed in order of landed price. Here a competitive landed price could see huge benefits for your sales.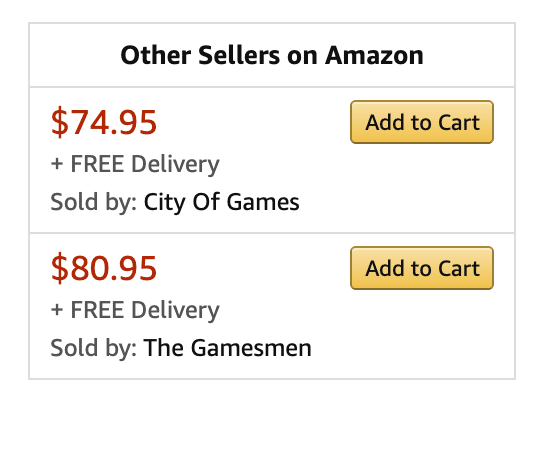 Customers will also be able to compare other variables, such as buyer feedback and rebate policies.
What if you still don't secure the Buy Box button?
What if you're doing everything right, but you still can't access your share of the Buy Box button.

In some cases, it might be that nobody's getting access to the box for several reasons.

Dramatic price increases and decreases:
If Amazon notices a dramatic price change, they'll avoid dishing out the Buy Box. This is to avoid the chances of customers purchasing counterfeit goods, listed at reduced prices.

Price inconsistency across channels
As a seller, if Amazon notices that you're selling the same item for cheaper on your own website, or on another channel, this could lead to you being penalized.

Increasing customer complaints about defective products
If Amazon notices increasing complaints about a particular product, it could lead to Amazon removing the Buy Box while they work out the reasons for this.
Conclusion
Amazon's whole branding is centred around offering customers professional, easy to deal with and efficient service.

Customers trust Amazon, which is why it's such a great platform to promote your listings.

However, in order for Amazon to put their trust in you, you'll need to really prove it to them. There's no point in using Amazon's platform and investing time and money if you're not maximising your returns.

The Buy Box is a massive game changer in the maximum sales you can make.

You need to understand the variables that go into the Buy Box. Once you've understood these you're all the closer to altering your strategy and securing a share of the Buy Box.

Doing this with a seller tool such as Marketplace Manager is sure to set you on the road to perfecting this strategy, quickly and easier.

Don't waste any time in getting your share of that Buy Box button. It could change your business quite dramatically.

About Harjot Singh
All Articles
See MerchantSpring in Action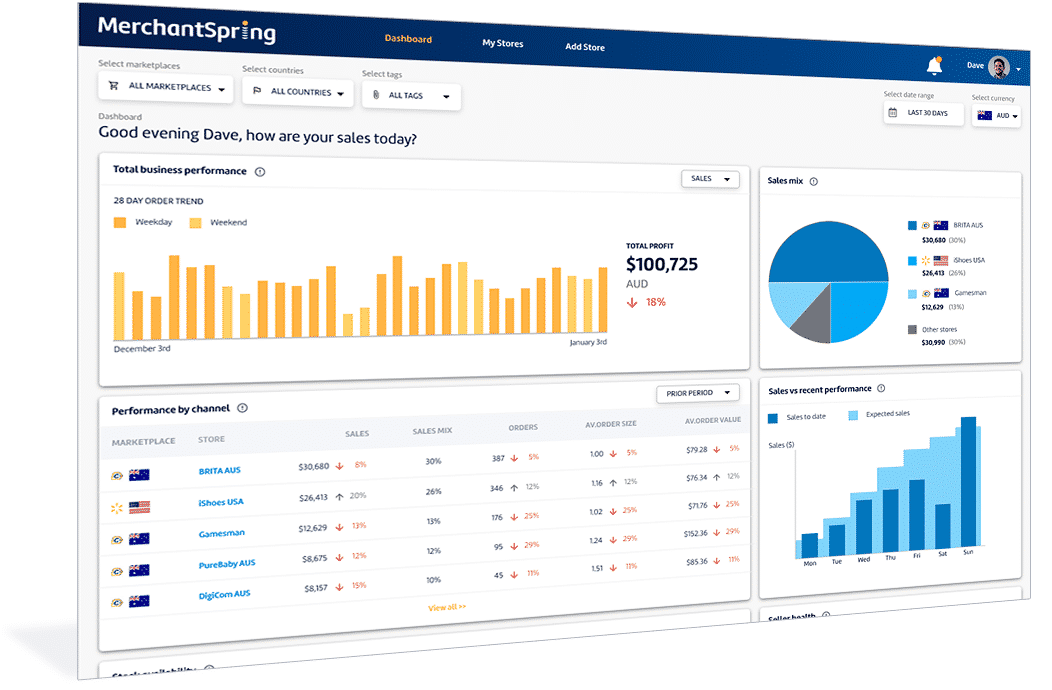 Book Demo