List of Amazon Selling Fees that Will Affect Your Amazon Profitability
We can all agree about one thing – Amazon has truly revolutionised the way we perceive shopping. It has not only aided consumers in seeking the right product at the right time, but it has also allowed thousands of sellers to take advantage of their platform and reach out to a broader audience.
As sellers, we could not agree more that selling some of your products on Amazon will help you grow your business and increase your sales. However, as you might expect with such a massive company like Amazon though, things can get complicated – especially when it comes to navigating the complex world of Amazon's seller fees, for international sales as well as domestic ones.
Amazon seller fees vary greatly depending on the cost, category, and weight of the item, as well as the seller's shipping options, seller plan, and order fulfilment process. it's important to consider the costs involved before you begin selling on Amazon. This comes in the form of a variety of seller and subscription fees, which can add up to a significant sum.
However, in reality, most sellers fail to account for all of the fees associated with selling on Amazon, and as a result, they lose money. To make matters worse, certain Amazon payments are either poorly described or not described at all on Seller Central.
This is why we have written a list of Amazon selling fees that will affect your Amazon profitability to make sure you're fully aware of what it's going to cost to sell on Amazon. Before we dive in, take a look at the table that breaks down each of the fees you'll face as a seller. As you read through the rest of this post, you'll find more detail on each of the fees.
Fee Type
Price
Who Pays
Amazon Seller Account Fees
Account Subscription Fee
$39.99/month
Professional sellers
Account Per-item Fee
$0.99 per item sold
Individual sellers
Referral Fee
15% or less of the product price
All Amazon sellers
Variable Closing Fees
$1.80 per item sold
Media item sellers
Fulfilment by Amazon (FBA) Fees
Sellers enrolled in the FBA program
Fulfilment Fees
Ranging from $2.41 per item sold (depending on size and weight) + $0.40 for apparel
Inventory Storage fees
January – SeptemberStandard size items – $0.75 per cubic footOversize items – $0.48 per cubic foot October to DecemberStandard size items – $2.40 per cubic footOversize items – $1.20 per cubic foot Additional long-term (365 days) storage fees are implemented from of $6.90 per cubic foot or $0.15 per unit
Inventory Removal Fees
From $0.25-$0.60 per piece, depending on the size.
Product Return Fees
The total fulfilment fee for a given product
Unplanned Service Fees
Depending on the problem group
FBA sellers whose inventory missing proper preparation or labelling
Fulfilment by Amazon (FBA) Small and Light Fees
Less than 4 oz - $1.97 Greater than or equal to 4 oz and less than 10 oz - $2.39
Sellers enrolled in FBA Small and Light program
FBM (Fulfillment by Merchant) Fees
Nothing additional but with slightly higher referral fees than FBA since you'll be charged a portion of the shipping fee as well as the sale price
FBM sellers
High Volume Listing Fees
$0.005 per applicable item
Sellers with more than 100,000 non-media items that haven't sold in over 12 months
Rental Book Service Fees
$5 per textbook
Sellers leasing out textbooks
Refund Administration Fees
$5 or 20% of the referral fee – whichever is lower.
Amazon sellers processing refunds
1. Amazon Seller Account Fees
The first fee you'll face as an Amazon seller is also the most straightforward decision you'll have to make. Do you prefer to sell as a "Professional" or as an "Individual"?
There are two types of Amazon Seller Accounts:
Individual (Account per-item fee)
Professional (Account subscription fee)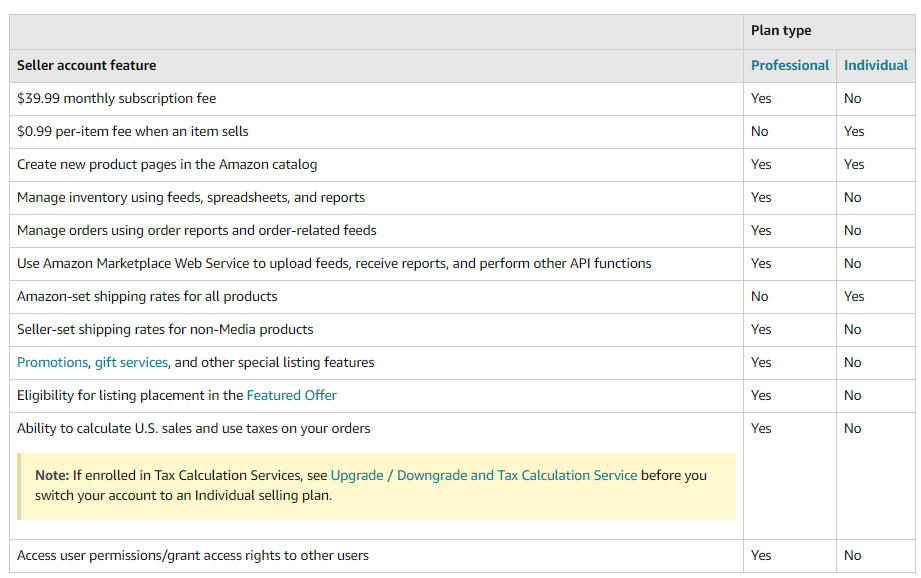 Source: Amazon Seller Central
Amazon Individual Seller Fees (Amazon Per-Item Fees)
The Amazon Individual Seller account is intended for new sellers or sellers who make only a few sales per month. There is no monthly account fee with an Individual Seller Account. You only "pay" when you sell something, but there is an additional $0.99 per item sold fee with this account that is not charged with the Professional level.
This is a pretty good deal if you're only planning on selling a handful of things per month, but costly if you wish to sell more products.
However, Individuals do not have as many advantages as Professionals: you can sell in more than 20 categories but are barred from entering several others. In some categories, you may need to obtain Amazon approval, whereas a Professional does not.
Amazon Professional Seller Fees (Amazon Seller Subscription Fees)
If you anticipate selling more than 40 units per month or looking to sell to customers cross-border, you should seriously consider joining the Amazon Professional Seller program. This account costs $39.99 per month but includes a plethora of additional perks:
Unlimited number of sales and listings
Uploading product listing in bulk
Ability to sell on multiple Amazon sites
Inventory management and integration capabilities are available
Amazon FBA program
The ability to run promotions and gift services
Eligibility for winning the Buy Box
The ability to offer free gift-wrapping for customers
Pay $39.99 a month no matter the quantity
The type and number of products you can sell are not limited to the professional plan. The Professional Seller account overall provides a better user experience.
2. Amazon Seller Referral Fees
Amazon charges Individual Selling Plan and Professional Selling Plan users a referral fee. In essence, an Amazon referral fee is similar to a commission. When you make a sale on Amazon, a portion of the proceeds goes to them rather than to you. It's the cost of having them set you up with your customer.
Now you probably want to know how much the referral fee is. Guess what? It varies depending on the category of items that you sold. This ranges from as low as 6 per cent (personal computers) to as high as 45 per cent (Amazon device accessories). Meanwhile, the minimum referral fee is $1 ($2 for watches or jewellery) across most categories (applied per item unless otherwise stated).
Your referral fee will be determined by the referral fee percentage and the minimum referral fee for your item. Amazon will charge your account the greater of the two amounts.
Below is an example of a few categories of products and the Amazon Referral fee that they charge: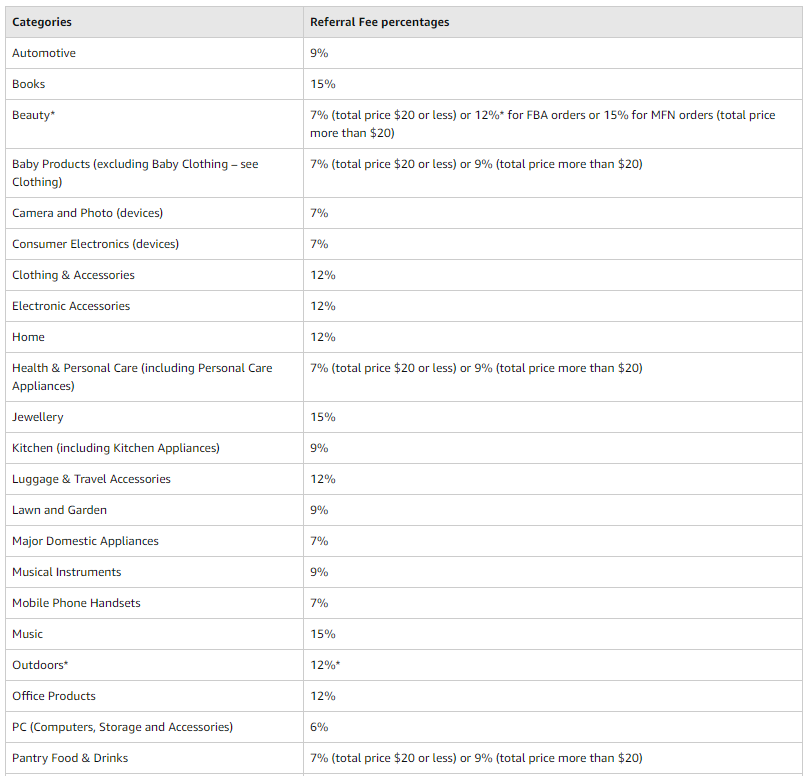 Source: Amazon Seller Central
3. Amazon Variable Closing Fees
The Closing Fee on Amazon is charged to sellers who sell in the Media Category. To put it another way, it's a surcharge for goods sold within its Media categories. It's measured in the same way as the referral charge, except it's $1.80 per item sold.
This covers:
Books
DVDs
Music
Software
Video games
Video game consoles and accessories
4. Amazon FBA (Fulfillment by Amazon) Seller Fees
Generally speaking, when a seller on Amazon receives an order, he/she have two options to consider:
Ship the product directly to the customer
Choose Amazon Australia's FBA program and let them handle everything.
If the seller prefers the first choice, the monthly seller subscription fee, referral fees, and variable closing fees are not increased in any way. However, in the case of Fulfilment by Amazon, the seller must pay additional FBA fees in addition to the selling fees.
For several retailers, Fulfillment by Amazon (FBA) is the preferred method of completing Amazon orders. This is because sellers can use Amazon fulfilment centres to store products, and Amazon manages the fulfilment process' ie. pick, pack, and ship steps.
Though FBA can help Amazon sellers streamline their eCommerce shipping processes, FBA pricing is complicated, variable, and costly.
FBA fee on Amazon can be broadly split into 5 parts:
Fulfilment Fees
FBA fulfilment fees cover every phase of the fulfilment process. This includes the costs to locate the product on the shelf, pack it, ship it, and other services such as customer service and return processing.
To determine the fulfilment fee, Amazon takes the product size and weight of the item being delivered into consideration. There are two types of item sizes:
Standard Size: From $2.41 to $4.71+ (cost depends on weight)
Oversize: From $8.13 to $137.32+ (cost depends on size classification)
Within those categories, there are several additional subcategories that sellers should also consider.
This fee is applied to any unit sold by FBA. It varies depending on the size and weight of the individual. For a small standard-size item, the lowest cost per unit is $2.41, while a "special oversize" item will cost $137.32, plus $0.91/lb over the first 90 lb.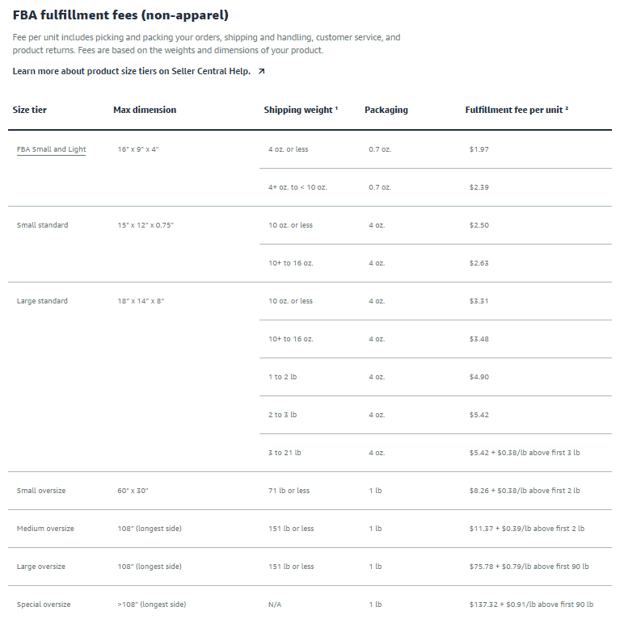 Source: Amazon
FBA also tacks on an additional $0.40/item in fulfilment fees for apparel.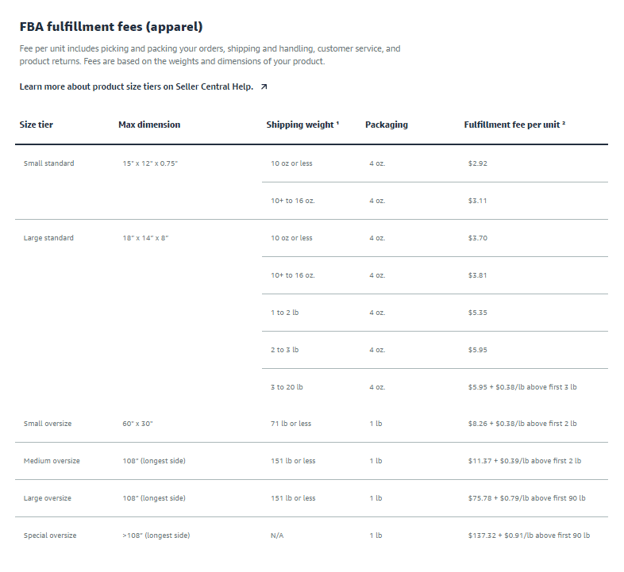 Source: Amazon
At the end of the day, the FBA fees will be largely determined by what you're selling — there is no such thing as a one-size-fits-all fee. This may seem to be a high price but bear in mind that Amazon's FBA fees mean you don't have to pay for shipping to the customer, or any other fulfilment costs.
Inventory Storage Fees
When you have an FBA account with Amazon, you don't have to ship to the customer but you do have to arrange bulk shipments of your inventory to Amazon warehouses. Once the inventory is in Amazon's warehouses, Amazon lets you keep your inventory inside, instead of you having to store them yourself. So logically enough, you'll have to pay a storage fee paid on a monthly basis. This fee changes during the year, with January to September being $0.75/cubic foot and October to December being $2.40/cubic foot. However, if you're storing oversize items, the storage fee drops to $0.48/cubic foot and $1.20/cubic foot, respectively.

Source: Amazon Seller Central
When your inventory sits longer than 365 days on their shelves or during peak seasons like holidays, you will be required to pay a long-term storage fee of $6.90 per cubic foot or $0.15 per unit, whichever is greater. Amazon will assess the required amount to be paid on the 15th of every month.
Here are long term storage fee examples: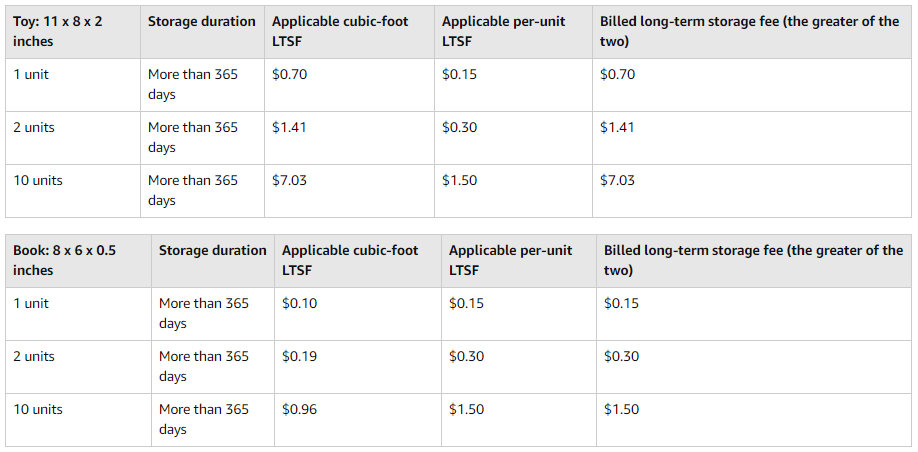 Source: Amazon Seller Central
Inventory Removal Fees
Furthermore, if you decide you no longer want to use FBA, removing the inventory from their fulfilment centres can be expensive. If you want Amazon to remove and return your inventory to you, you'll have to pay $0.25-$0.60 per piece, depending on the size. Removal orders are usually completed in 14 business days. During the holiday season and peak removal times, however, the processing of removal orders can take up to 30 business days.

Source: Amazon Seller Central
Product Return Fees
It's free for the customer but not for the sellers.
If your product is eligible for free returns through Amazon prime, you will have to pay an additional fee for FBA returns whenever a customer returns the product.
This fee is the same as the delivery charges for a single unit. Except where the reason for the return is one for which Amazon assumes responsibility under the FBA missing and damaged inventory refund scheme, the charge refers to all customer returns in the following categories:
Apparel
Watches
Jewellery
Shoes, Handbags & Sunglasses
Luggage
Unplanned Service Fees
Amazon is notorious for its stringent seller criteria, as well as the use of fines to penalise sellers who break their regulations. Unplanned Services, according to Amazon, are a choice for sellers who are unable to prepare or package their goods themselves. Amazon can conduct unplanned services such as labeling, bagging, poly bagging, and taping in order to prepare products for safe and efficient storage and delivery.
Sellers who do not comply with Amazon's stringent barcode mark requirements for FBA stock when they arrive at the fulfillment centre will be charged a labelling fee.

Source: Amazon Seller Central
For unplanned services in regards to goods with safety-related problems, Amazon may also charge sellers extra fees when their goods are missing the appropriate barcode or labelling.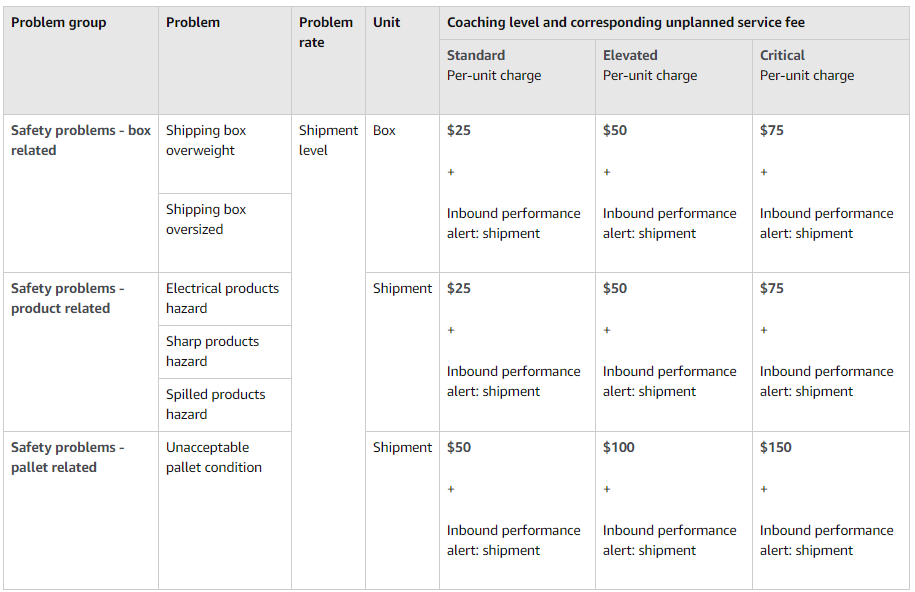 Source: Amazon Seller Central
5. FBA Small and Light Fees
The various fees associated with Amazon's fulfillment by Amazon (FBA) service have long been seen as a barrier to selling small and inexpensive products because, for smaller products, the added fees meant lower margins.
That's where Amazon FBA Small and Light comes in.
Amazon FBA Small and Light is a fulfillment program offered by Amazon for small and fast-moving products with a price of less than $7.
This fulfillment option is available to sellers with products that meet the following criteria:
It has to weigh 10 oz. or less
It has to measure 16 x 9 x 4 inches or smaller
It has to be priced at $7 or less
It must not be under a restricted category
It must be New
If existing ASIN, it must have sold at least 25 units in the past month
It must comply with the Prepping/Shipping guidelines

In addition, Amazon FBA small and light does not accept the following categories and types of items.

Source: Amazon Seller Central
The program was designed to allow sellers to list high-volume, low-cost products. So you pay a lower delivery rate while also receiving Amazon FBA's main benefits such as free prime delivery, reduced fulfillment fees, Amazon's A-Z guarantee, and free promotions.
Because of an alternative Prime delivery timeline for consumers, the service has slightly lower FBA fees than the normal FBA prices. Prime qualifying products sold through FBA Small and Light are labelled with a delivery period of 4–5 business days (compared to the typical Prime 2 day shipping guarantee). Customers without Prime will receive free shipping within 6–8 business days on goods purchased through FBA Small and Light. This also makes FBA Small and Light Prime badge appeals to customers.
For sellers, not only would your margins increase, but you'll be able to provide free delivery to all of your customers in the United States, whether or not they are Prime members. Of course, offering the product as Prime qualified ensures that it will be visible to Amazon's most loyal and successful customers.
6. Amazon FBM (Fulfillment by Merchant) Seller Fees
Fulfilled by Merchant is just what it sounds like: the merchant fills orders when their goods are sold on Amazon, either by self-fulfilment or through a third-party fulfilment centre.
Amazon Fulfilled by Merchant is often the fulfilment method of choice for sellers just getting started on Amazon and it is usually more favoured by new sellers to avoid Amazon's strict FBA requirements. However, it does still come with fees that sellers need to pay attention to.
Firstly, because basically, you are still selling on Amazon, you'd still need to pay the fee for either Individual or a Professional Seller account.
Secondly, whether you choose FBA or FBM, you still have to pay the referral fee at the same rate. The total referral fee will vary depending on the type of product you sell and can range from 6% to 45 %. However, because the referral fee is a percentage of the total sales price – which may include the shipping fee, as an FBM seller, you should expect a slightly higher referral fee than for FBA transactions since the total amount includes both the shipping fee and the sale price.
Thirdly, there are costs associated with partnering with a 3PL to handle Amazon FBM, such as storage and fulfilment. You may believe you are saving money by doing it yourself, but there are always opportunity costs associated with the amount of time you spend packing boxes and running to the local UPS store.
7. Other Amazon Seller Fees
The fees listed up to this point are the ones you'll probably have to spend the most time worrying about, but there are a few more additional ones that we think you should be aware of in some situations.
High Volume Listing Fees
Amazon charges a monthly fee of $0.005 per qualifying listing to cover cataloguing costs when you have a large number of non-media listings that have not sold in the previous 12 months but have been listed on the Amazon website for at least that long. For the first 100,000 listings, this charge is waived, but then under the scenario, Amazon would start charging you High Volume listing fees per ASIN.
It's intended to minimise the amount of time Amazon warehouses are used to store items that don't need to be in stock. That means, ideally, it won't impact the vast majority of sellers.
Rental Book Service Fees
Merchants that rent out books, such as college textbooks, will be charged a $5.00 fee for each rental book sold. Keep in mind the Amazon seller fee when pricing your textbooks and determining your shipping rates, as this fee will add up over time.
Refund Administration Fees
A consumer may be dissatisfied with your product and want to return it from time to time. You will need to issue a refund in these situations. This includes any of your products with Prime shipping.
In this case, when you decide to refund a customer, Amazon gives you the referral fee back when you make a refund – but they do retain some of it as an administration cost. Amazon will either charge $5 or 20% of the referral fee – whichever is lower.
Conclusion
Now after knowing all the applicable fees imposed by Amazon to sellers, the big question now is:
Is it worth selling on Amazon?
The answer is YES of course.
Because before you're thinking of abandoning the idea of selling on the largest eCommerce marketplace in the world, let's stop and think about your customers' buying journey. People are primarily motivated to shop on Amazon due to the low prices, free delivery, and comfort. Besides, the majority of Amazon customers are highly loyal, often using the site to compare rates before purchasing an item in a physical store.
This makes Amazon one of the best eCommerce platforms to sell your products on.
Now what you can do as a seller is to watch out for all the fees and get on top of them early as when you become a big seller it will have a larger impact on your business.
Consider this a starting point and spend some time doing the math for your business. This is where a great profit and loss tool can come into play. Fortunately, MerchantSpring Marketplace Manager has released a functionality to automate this and to help you lower Amazon seller fees.
Sign up for a 14 Day Trial now. No credit card needed. Book a call with the team to discuss your business needs and how MerchantSpring can add value.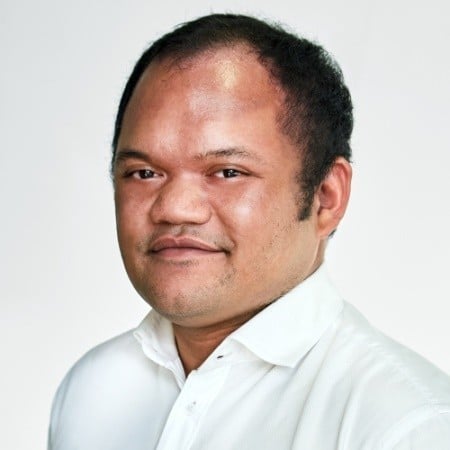 About James Dihardjo
All Articles
See MerchantSpring in Action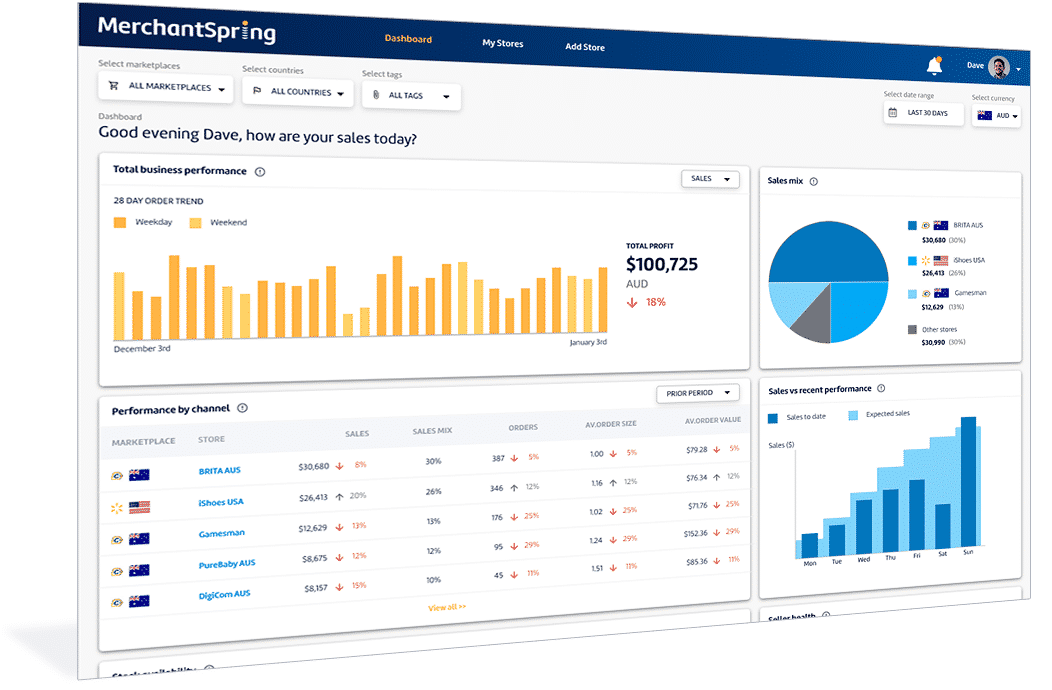 Book Demo